It's Gavin's 21st birthday and we were off to a good start. His IVIG Infusion supplies showed up and he immediately went to work. Whenever he gets his supplies, I've taught him to put together kits containing everything he needs for each infusion.
This serves a dual purpose. It helps him to learn how to organize, maintain and keep track of these life saving supplies. The other thing it does is help to streamline the infusion process as well as helps him to take inventory when the supplies are first received. It's important to take this inventory because sometimes items are missing and he needs to let me know immediately so I can get them ordered.
This morning he put his kits together and he had enough supplies for eight total infusions. He gets two infusions a week and his supplies are delivered once a month.

He felt good about that and went to immediately get his infusion started. That's where we hit a snag.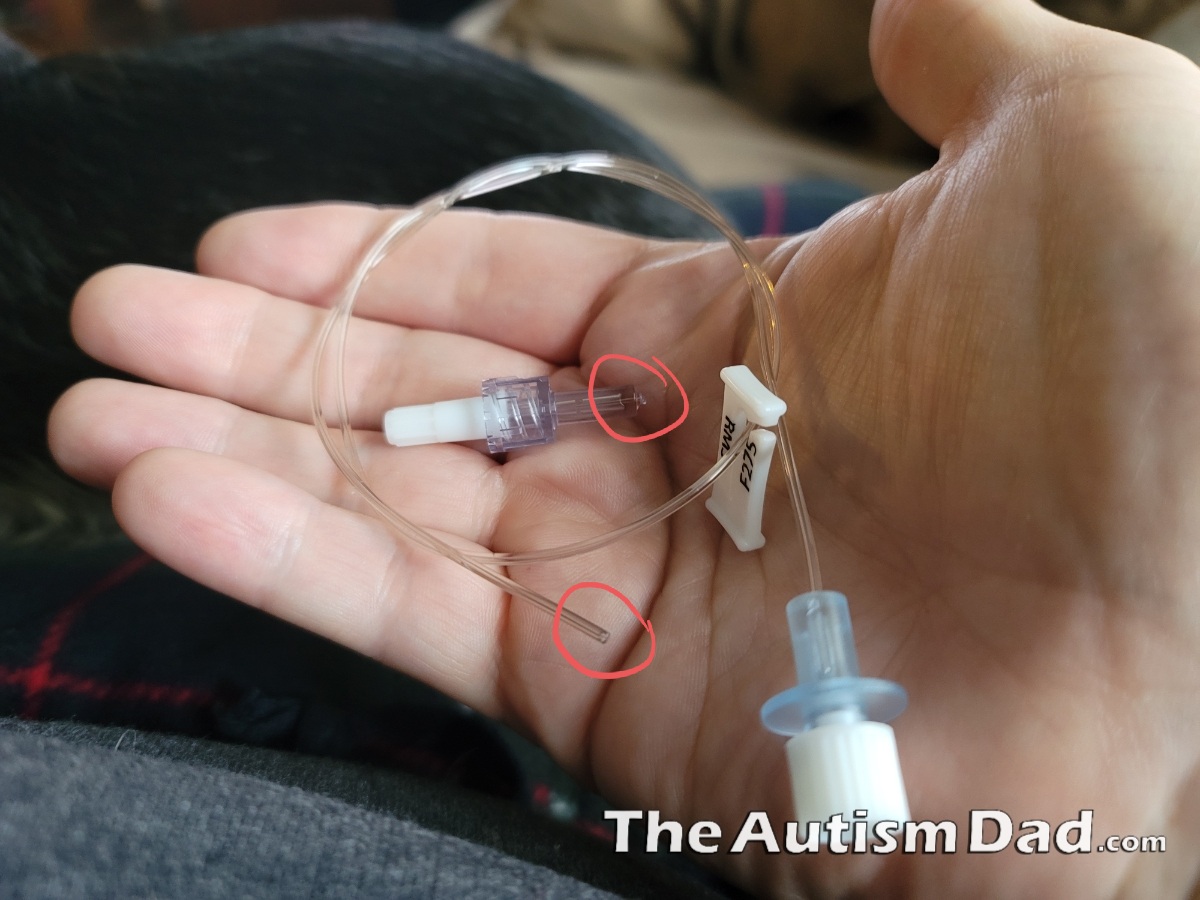 The picture shows the extension tubing that runs between the pump and the actual needle sets. When Gavin opened up this extension set and the connector fell off. This threw him off.
He didn't know what to do but he immediately came downstairs to inform me that it had happened. It's not a huge deal but it was to him.
I told him to pull one from another kit and I'll call and get it ordered. He said that he knew I would want to know about it right away. I gave him a crisp attaboy and he was off to get his infusion started.
After about thirty minutes, he came downstairs in a state of distress because he was unable to do the infusion himself. In other words, he was hesitant to put the needles into his belly himself. Basically, he was scared and that's totally okay. I certainly wouldn't want to do it. That's not meant to be belittling either.
Gavin does a really good job when he's consistently having to do this. Unfortunately, he missed two infusions last week because of the delay in receiving his supplies. That made him really nervous going into this. When the tubing fell apart in his hands, that pretty much pushed him over the edge.
He came back down downstairs in a state of panic and on the verge of a meltdown. The poor kid had gotten himself all worked up and just needed help putting the needles in his belly. I took care of that part for him. No problem at all.
Normally, I would try to talk him through it because it's really important that he does this on his own. This time however, the situation was different and I felt it was best to relieve his anxiety and get the infusion done. Friday might be one of those days that I need to talk him through it but we'll cross that bridge when we get to it. Helping him get back on the horse isn't a huge deal but the importance of him getting back on cannot be overstated.
We got this. Happy Birthday Gavin.. ☺