Gavin's having a rough time today. He's eighteen years old now but can't be treated or managed like a typical, freshly minted adult. Unfortunately, Gavin's cognitive ability is significantly lower than his chronological age.
Until we have his new NeuroPsych testing done this summer, we won't know exactly how much he's regressed since the last time he was tested, but his doctors have pinned his emotional age at around eight or nine years of age. That's a ten year difference between his developmental age and his chronological age.
As he gets older, it becomes more and more obvious that he is struggling.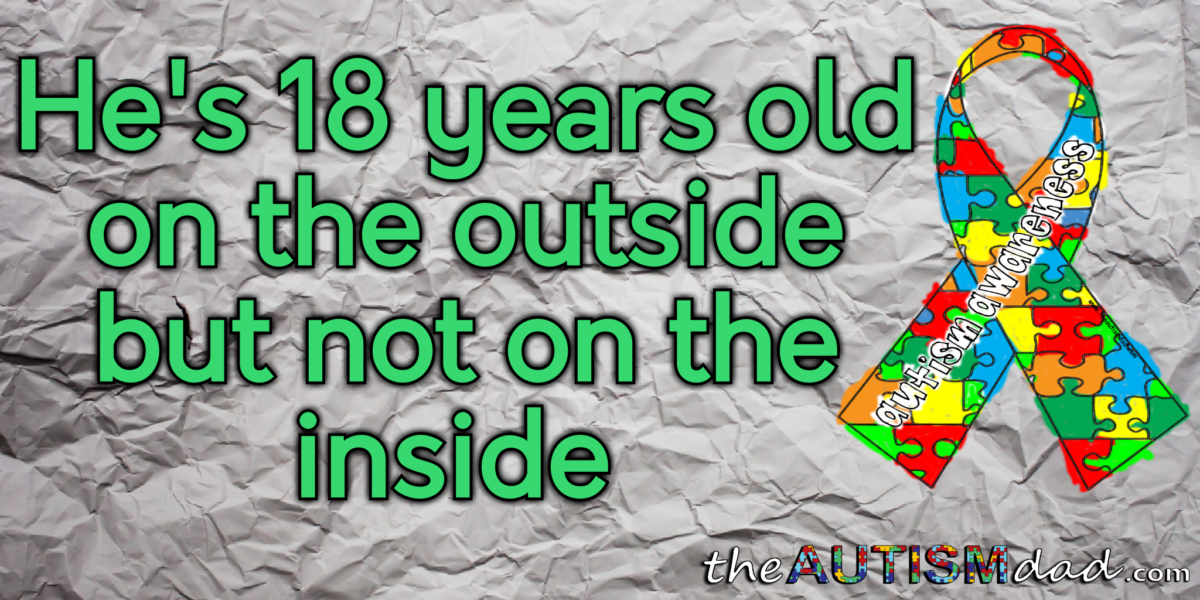 Today he was taking out the recycling (supervised of course) and his lack of ability to problem solve was on full display. We have recycling collected in a few places around the house and part of his job is to collect it up and put it on the curb, just outside our backdoor.
Rather than make trips, he's trying to carry all the boxes at once and they kept falling on the floor. Each time a box fell, Gavin was getting more and more frustrated.
Normally, I like to try and let him work through it but that clearly wasn't going to happen today. Not only was he frustrated with the boxes, but he was also frustrated because I had to help him figure out that making two trips would be a better approach.
This is when he seems even younger than eight or nine because he stops his feet and growls. He twists he feet like he's trying to break his ankles and begins winding up for an explosive meltdown. In this case, he seems more like a toddler than an eight or nine year old kid, and definitely more than an eighteen year old.
The only way we've found to avert this meltdown is to secure his attention and sorta snap him out of it. It usually requires raising the volume of my voice but not yelling at him, because there's a difference.
My voice will sorta startle him and sometimes it can snap him out of where he's at. He lives very much in the now and once I have his attention, he seems to forget why he was upset, allowing him to settle down.
One of the things I have always considered a silver lining in this whole journey with Gavin was that he lacks self-awareness. This means that while he was declining, he wasn't aware he was declining. We've reached a point where it is very difficult for him not to be aware of his declining abilities because he struggles with a great many things that he hasn't struggled with until recently.
It's frustrating and heartbreaking for me as well because there's nothing I can do about it.