I want to take a few minutes and talk about my main focus for Autism Awareness month this year. It's just around the corner and I'm hoping to help make a difference in the lives of Autism families across the country.
Traditionally, Autism Awareness month is about raising awareness for people with Autism, by helping to educate the general public. This is a very positive thing, but sometimes we need to focus less on educating the public and instead focus on improving the lives of people and families touched by Autism.
Over the years, I've spoken about wandering on many occasions. Wandering is a nationwide epidemic within the Autism community that all too often ends in tragedy.

Roughly half (49%) of those with Autism will wander away from a place of safety and gravitate towards very dangerous locations, such as bodies of water, train tracks or busy intersections.
The best way to help ensure the safe recovery of a wandering child is too either prevent wandering altogether (which isn't possible) or have the ability to immediately intervene if an elopement takes place.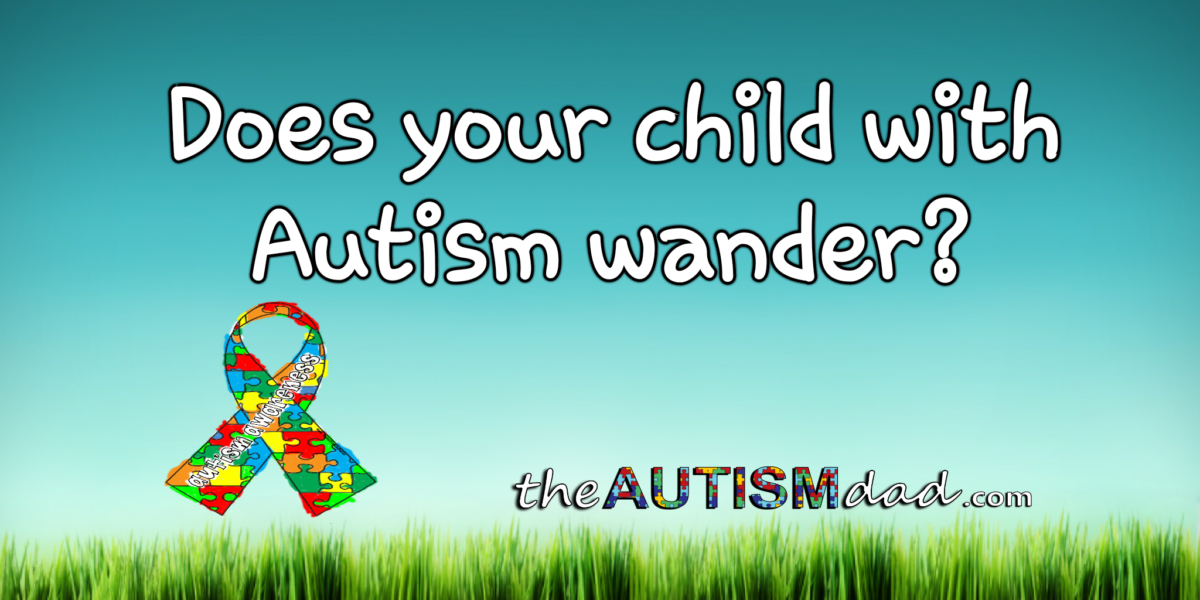 Many of you know that I've been partnered with Vivint Gives Back for a couple of years now. Vivint Gives Back is an amazing organization that is devoted to helping children with intellectual disabilities. One of the many things they do is provide security and SmartHome equipment to families of children with a propensity to wander. The equipment is free and the monthly service is on a sliding scale, based on the family's income. You can read all about my personal experience with Vivint Gives Back and details about how you can apply for this program by clicking HERE.
One of the reasons I have chosen to both partner with and endorse Vivint Gives Back is because of how profoundly what they offer can impact an Autism family.
There have only really been a few organizations that I've ever fully endorsed. The Autism Society of America is the first, Vivint Gives Back is the second, and Project Lifesaver International is the third. All of these organizations do amazing work both for and within the Autism community.
My goal for this April is to help my Autism families connect with Vivint Gives Back.
One of the many things that families like mine struggle with our peace of mind. Vivint Gives Back can not only provide safety and security but also peace of mind. Autism parents are constantly on alert and trying to stay ten steps ahead of our kids on the Spectrum. If their child falls into the 49% of kids with Autism who wander, staying tens steps ahead is absolutely essential but it's also absolutely exhausting.
What Vivint Gives Back does is install equipment that helps to significantly limit a child's ability to leave the house without the parents knowing. So many parents live in constant fear that their child is going to get out of the house without their knowledge, especially at night.
Being immediately alerted to a child trying to leave the house, can give a parent the ability to immediately react, intervene and recover the child before the act of elopement occurs.
Monitoring is done via things like door/window sensors, motion detectors, and cameras (inside and/or outside). All the equipment is wirelessly fed into a central touch panel and connected to the internet via Wi-Fi. This makes everything accessible from the mobile apps. You can receive instant alerts to doors or windows being opened, motion detection from a camera or motion sensor and even live video streams.
It's an excepted fact that if a child is going to wander, there's little you can do to stop them. Having said that, if you are immediately alerted to a door or window being opened, you can react within seconds and intervene.
Being able to sleep at night knowing that if anything happens, you will be immediately alerted, can provide invaluable peace of mind to parents who may be literally sleeping in shifts because of fear that their child will try to escape the house.
This is so important for Autism families and I'll be revisiting some of these things in more detail, including the many ways I use my Vivint Home system to help keep my Autism family safe.
I DON'T make a commission if you apply for this service. My only motivation is to help you connect with affordable tech that can drastically improve the safety of your home and the quality of your life.
In the meantime, to learn more about Vivint Gives Back, click HERE and apply.
If you have any questions at all, please don't hesitate to reach out to me directly and I'll help in any way that I can. ☺