Let me tell you about my favorite way to start the new week. By favorite I mean the absolutely worst way to begin the week cause it sets a tone that seems to follow me through the rest of it.
Picture this, the boys are in bed, and I just hit the Walgreens to pick up a gallon of milk and some ice cream.
It's Sunday and that means Lizze and I plan on being parked on the couch, killing time until Last Week Tonight begins at 11pm. This is our Sunday ritual and the way we say goodbye to the weekend and hello to the week ahead.

Unfortunately, on this Sunday, Mr. Elliott decides he's not going to be able to fall asleep. Did he plan this out because he knew John Oliver is finally back from break and we get to watch our favorite Sunday night show? The jury's still out on that one.. 😁
All joking aside, we tried a great many things to help my little man fall asleep but it's currently 12:30 am and he's still unable to doze off.
The only way for him or myself to get any sleep tonight is to have him sleep on the couch in the living room. That of course, means I'm sleeping on the other one because I'm not comfortable with any of my kids sleeping downstairs alone.
I image that many parents with kids on the Autism Spectrum will understand that innate fear of leaving their child to sleep on the couch alone in the living room, while they're upstairs.
It's not like anything would happen but too many things have happened in the course of me being a parent that should never have happened. I wouldn't sleep with him down there by himself so I just crash on the other couch and both of us will get some sleep.
Lizze and I made it through the first ten minutes of our show before we recognized that we had lost the battle of trying to get Elliott to fall asleep.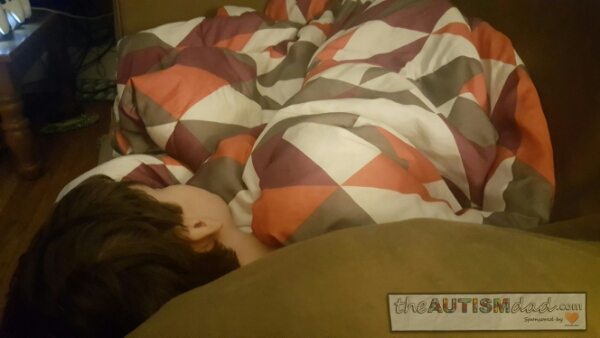 Mr. Elliott is currently trying to sleep on the couch adjacent my own, with Maggie curled up under the blanket next to him.
Eric Clapton is singing Tears in Heaven on the Amazon Echo and the first floor is dark enough that I need to dim my tablet screen so it doesn't burn my eyes as I'm writing this.
I hope to be sleeping before too long. The chances are pretty good because Elliott appears to be right on the cusp of entering the dream world. That means, if there's a God, and he is indeed merciful, it will soon be my turn.. ☺
As much as I'd love to be sleeping in my own, arguably less comfortable bed, this is just one of the things I do for my kids to help them fall asleep on the nights that nothing else works.
There are a great many things that I'm powerless to make easier for my kids. They face so many challenges in their daily life and if sleeping on the couch is what I have to do in order to provide them with enough comfort to fall asleep, I'd do it every single night.
Having said that, I'm super grateful that isn't necessary.. Knock on wood..