Many things have happened today but in this entry, I want to focus on what is arguably the most pivotal.
I spoke previously about Gavin having his Lithium dose cut in half, with the potential of being totally removed in the near future. The near future has arrived and we met with Dr. Reynolds this afternoon about this very subject.
The focus of today's appointment was to discuss how things were going on the current (reduced) dosage and then decide where to go for here.

Lizze and I both agree that Gavin is or at least appears to be manic. Is this the result of the decreased dose of Lithium? My personal opinion is that it's probably not.
The reason I say that is because Gavin's been on 900 mg/day of Lithium for at least a decade. In that decade, we've experienced countless manic episodes and what we're seeing now is no different.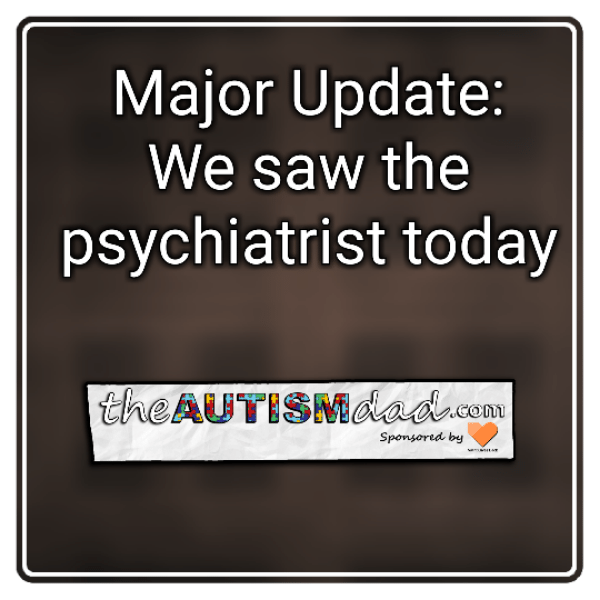 Of course it's possible that the change in dosage contributed to this particular manic episode, but we were seeing this before the change as well.
The concern is, it appears that the Lithium is having little or no impact on managing his bipolar. If that is indeed true, taking him completely off of it is the best thing for him. Unfortunately, the only way to know for sure is to remove Lithium from his medication regime all together.
We've never done this before and aren't entirely sure how this is going to go. The deciding factor was, if we hadn't known that his Lithium had been reduced, we wouldn't have known his Lithium had been reduced.
Does that make sense?
Anyway, the next six weeks are going to be taken day by day because we don't really know what to expect.
Our hope is that there is no change and he can have Lithium removed from his daily intake, for at least the foreseeable future.
The process is simple. He's going to take half of a pill for two weeks and then stop. Fingers crossed that this will all work out…