As I shared earlier, Emmett had an appointment with his pediatrician this afternoon for an ADHD intake, similar to Elliott's from last week.
The ADHD intake went just fine. Emmett's ADHD was on full display while we were there. We kinda joked about whether or not I was sure he had ADHD because he was all over the place. 😁
I'm grateful to have such a cool, young doctor because it sorta puts me at ease when the kids are in rare form, like they were today.

The only other thing we needed to have checked out was Emmett's ears.
I explained to one of my readers earlier today that he doesn't have issues with his ears but he tends to be really waxy and it can occlude his ear canal. Obviously, that makes it hard for him to hear.
The reason we wanted to check was because Emmett doesn't have an inside voice and he's always shouting when he talks, even when we're right next to him.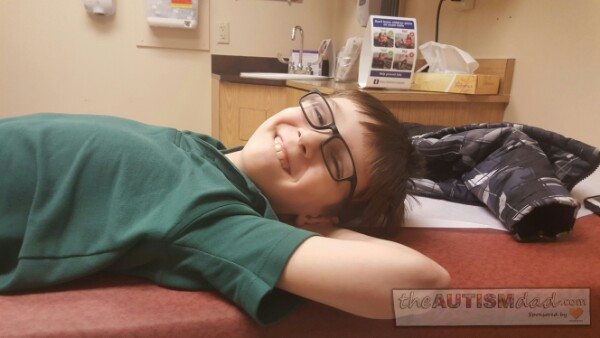 I was shocked when the doctor said his ears were clean and clear because this kid is fucking loud, all the time. It's been almost six months since they were cleaned out and I was sure they'd be clogged up.
It's great that his ears are clean but at the same time it sucks, because that means he's being really loud for a different reason….
I have read articles before where they mentioned this could also be sensory related. I'm not sure of the mechanics there, but I'll ask his OT next week.
Anyway, I'm going to file that in the work in progress category and keep plugging away.
On a side note, we were informed by the boy's insurance company that if our doctor writes a script for Melatonin and/or vitamins, they will be covered. That's a pretty big deal because that shit gets expensive and every area we can save is a good thing.
I also want to give props to Mr. Elliott. He was along for the ride and aside from his compulsive need to do the dab all the time, just to annoy me, he did quite well. I'm super thankful for that and proud of him because we were there for awhile.
You can check out some pictures from our trip below… ☺