Over the last decade, I've put a great deal of focus on the fact that all people touch by Autism are unique and not cookie cutter copies of each other. I also stressed the same applies to Autism families as well because no two are exactly the same.
Both of these statements are true and sadly, too many people still don't grasp this concept. Stereotypes and assumptions still abound when it comes to anything Autism related.
This post isn't about reiterating the same old facts all over again.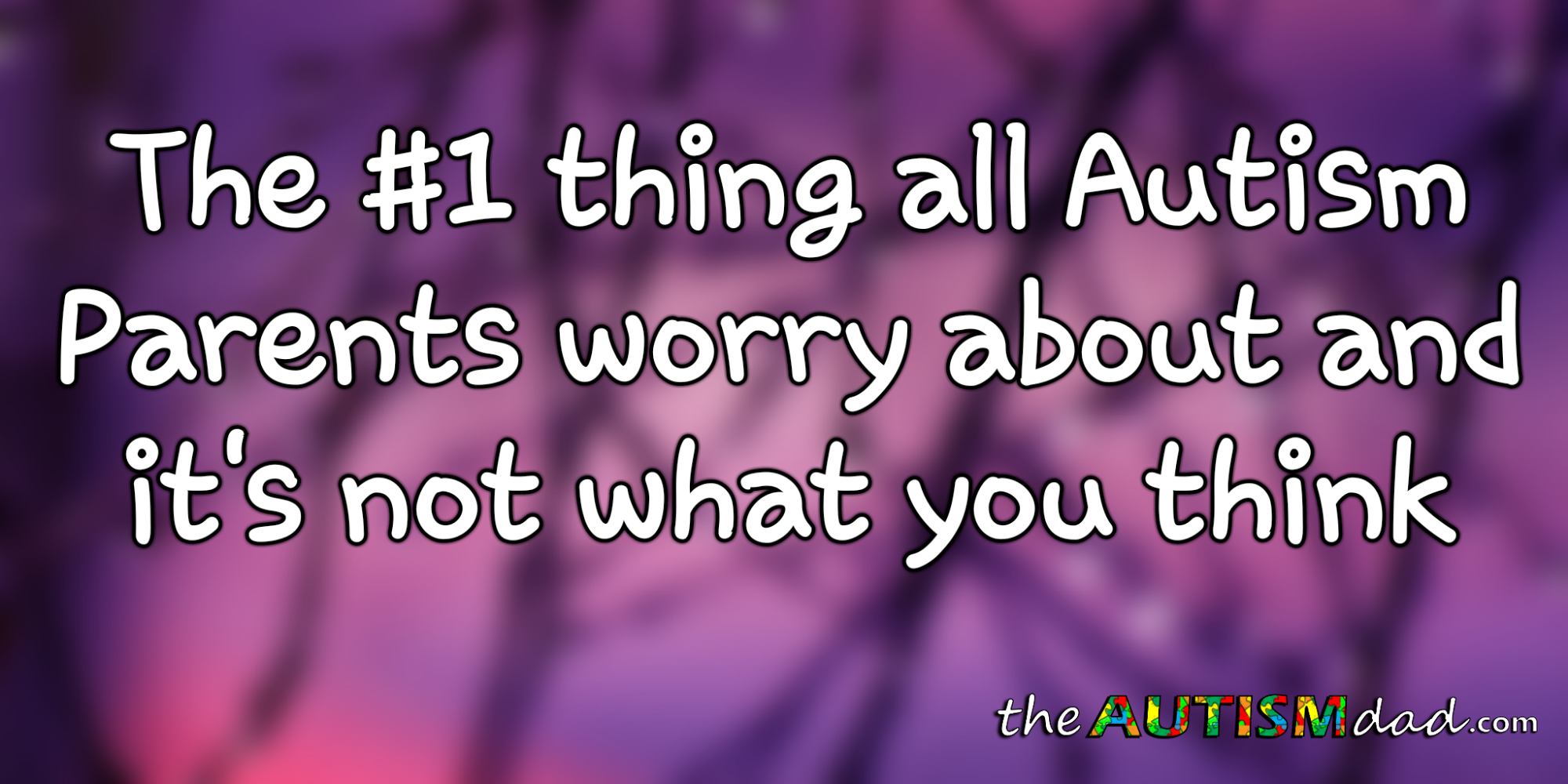 Instead, this post is about the number the one worry that all Autism parents share. Aside from loving our kids with Autism unconditionally and without limits, this is one thing that in my experience is absolutely universal.
One might assume that we worry about things like bullying or how our kids with Autism are received by society in general. Maybe we worry about school, IEP's and fighting for needed services.
Those things are all true and they tend to be common worries.
What I'm talking about however, is something much scarier for an Autism parent.
That fear is simply put, what will happen to my child with Autism, if/when something happens to me? This is responsible for many sleepless nights.
No parent likes the idea of leaving this life and forcing their child to live without them. It's heartbreaking for any parent to contemplate their own mortality and how it will impact their child or children.
In most cases however, as devastating as losing a parent is for a child, they will still grow up, if they aren't already and eventually move on with their lives. They will take all they've been taught along the way and use it to build their own life.
The reason it's different for Autism parents is because our kids are different. Many of our kids with Autism will need to be cared for their entire life. They are unable to care for themselves and simply couldn't survive on their own. Our oldest Gavin, is a perfect example of that.
Even thinking about what will happen to our child after we're gone is a terrifying experience. So many of us live in fear of this because we don't know what to do with it.
So many of our kids will need us to care for them throughout the duration of our natural lives.
If you were to ask random Autism parents, what their single biggest fear is, majority of them would probably say that they fear what will become of their child should something happen to them.
I wrote about an experience I had many years ago that really put this fear into the forefront of my mind. The post is called My Broken Heart: The True Story of the Bare-Handed man.
Until I had that truely profound experience, I hadn't given any thought to what would happen to my kids if something happened to me.
That post went insanely viral and was picked up by news networks across the country. It was even published on CNN as well. Some of you may have found me that way as well.
There's a point to all of this.
The reality is, for many Autism parents, we live with the knowledge that our kids will need us for as long as we are drawing breath. We worry about who will care for them when we are gone.
This is about as real as it gets. These feelings are very practical and nothing anyone can say to us will appease them in any way.
We can do our best to make arrangements via will and make our wishes known. Perhaps siblings will step up and take over for us when we can no longer be there. These are things that we must think about and plan for, regardless of how unpleasant it is.
No one lives forever. I keep coming back to the fact that we are all human and therefor we must deal with all the limitations that go along with that.
One thing we can do though is practice selfcare. Selfcare is the act of caring for oneself, even when it takes away from other responsibilities, in order to ensure that our physical and emotional needs get met. If we don't care for ourselves, we are no good to anyone else, including our kids with Autism.
The amount of energy that goes into being an Autism parent is simply unsustainable if we don't take time to replenish ourselves. No one can deal with the amount of stress the average Autism parent struggles with if they don't do what is needed to help minimize the impact it has.
No one knows how much time they have in this life. We could be hit by a car tomorrow and there's nothing we can do about that. That's simply how life works.
At the same time, we aren't completely powerless either. The better we care for ourselves now, the more likely we are going to be able to care for our kids with Autism far into the future.
Selfcare is easily one of the most important things any Autism parent should do. Unfortunately, it's also one of the least likely things an Autism will do.
We must change that. Please remember that sometimes you have to be selfish before you can be selfless.
For more information on the importance of self care and things you can do to better care for yourself, see: Autism Parents, you must be selfish.