In Elliott's case, he doesn't lie, but that doesn't mean he always correctly interprets situations or motives correctly, especially if emotions are involved.
Elliott is so hurt that everyone laughed at him when he fell because he couldn't even imagine doing the same thing to someone else. He would have been the first person to help and therefore expects that everyone else would do the same thing because it's the right thing to do.
Unfortunately, that's not the way the world works, and he's going to be disappointed a great deal if he doesn't somehow grasp that concept. I've had many conversations with him about this, but he just doesn't understand why people wouldn't do the right thing.

After we arrived home, he gave me a piece of paper that turned out to be a new journal entry for him. It was all about what happened at school and how it made him feel.
He wanted me to share this because he's hoping that people will learn something from his experience. If someone falls and gets hurt, he wants people to do the right thing, instead of laughing. At least make sure the person who fell is okay.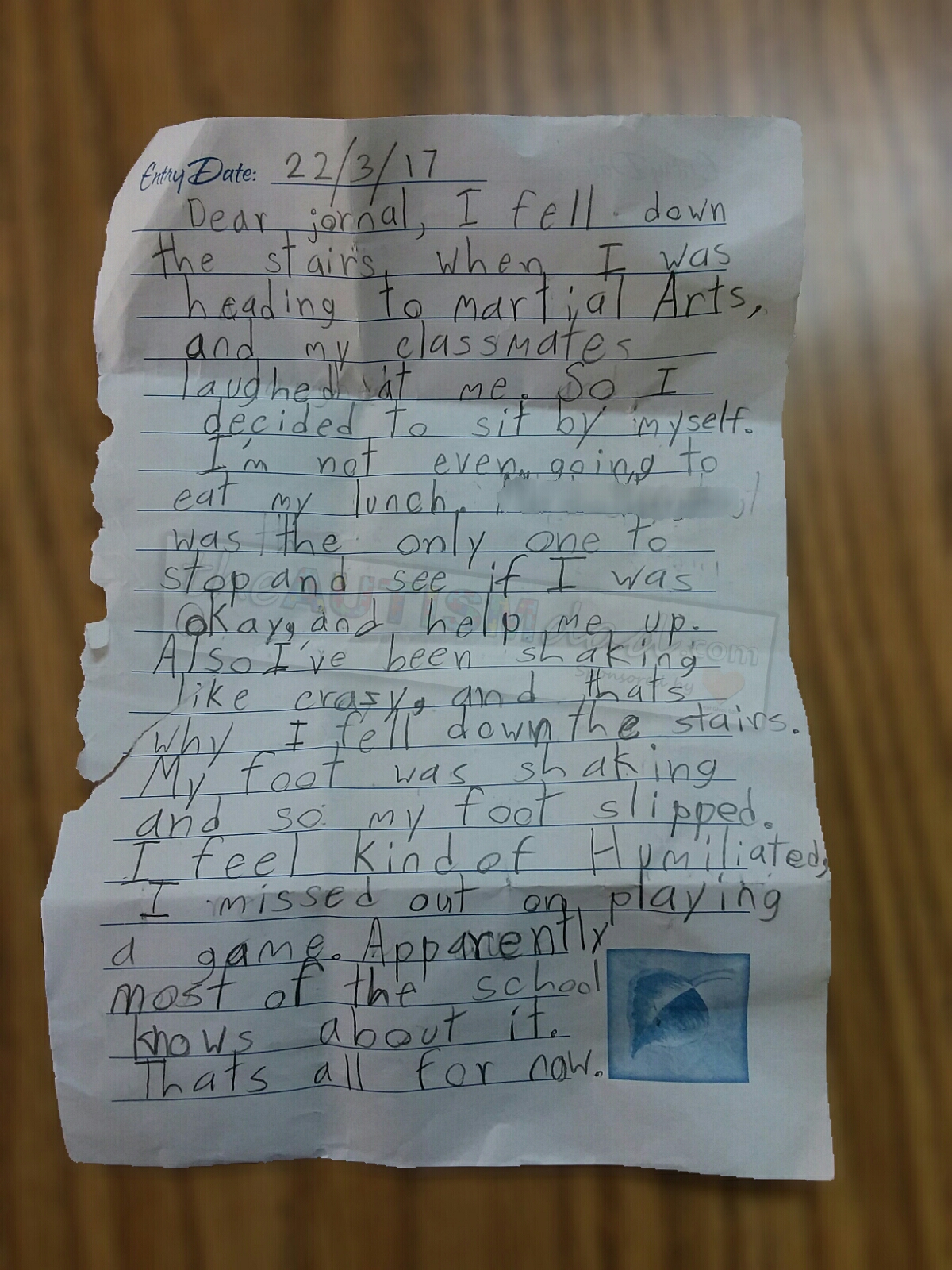 As a parent, I hate the idea of my kid's hurting, and I ask that you talk to your kids about what to do in situations like this.
Elliott is physically okay. He's sore, a little bruised but okay. Emotionally, he's disillusioned by how his classmates reacted to him falling down the steps. I can only continue to work with him on adjusting his expectations but this is how he perceives things, and I'm not sure there's a great deal I can do to help him.
As for the school, this has been resolved, and while I'm unhappy with how it was handled, I'm grateful for how they've responded to my concerns.
The principal caught up with me today and wanted to make sure I knew he had addressed this and agreed that I should have been called. That will be the approach going forward. I'm happy with that…
No one is perfect, least of all me. It's not the making of a mistake but rather the way in which that mistake is addressed, that matters to me.
Anyway, poor Elliott is still emotionally struggling from this whole thing, but we're working through it. You can tell he's carrying this with him because he's always at that threshold and it doesn't take much to send him into an emotional meltdown.
Spring break has started, and that will give him some time to work through this.