The world doesn't slow down just because you have special needs kids.  In almost every case, I still have to meet the same societal responsibilities as everyone else.
There are times where I don't feel it's fair because the amount of responsibility on my plate is seriously disproportionate and ranges from almost always overwhelming to completely consuming.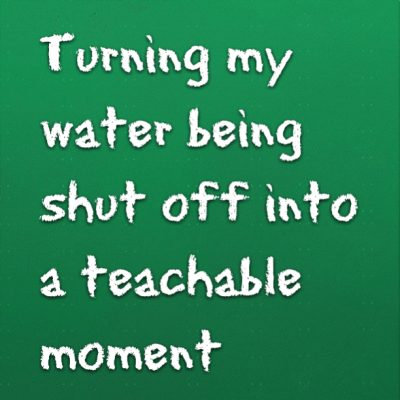 I came home from walking this morning, only to discover that my water had been shut off.  I don't really have any options at the moment either.
It's no secret that I've been struggling to stay above water for awhile now, especially since becoming a single Dad.  It's not like we didn't struggle sometimes before that because we did.  Now there's fewer players on the field, no timeouts and no substitutions…
Life is just harder.
I know that it's easier said than done but it's really important to keep my chin up and here's why.
Nothing is ever going to be easy and that's okay because nothing worth having ever will.
Facing unexpected challenges like this, forces me to be a little more resourceful in my approach to things.
I'd be lying if I said this kind of thing doesn't stress me out or get me down but it's important that I not let it keep me down.
When you find something that gets you down, remember that life will go on and you cant give up…..☺