Gavin's birthday falls between pays and right before tax return. There have been times where we celebrate on the actual day but more often than not, we end up celebrating a few days later.
I was hoping to celebrate today but unfortunately, that doesn't look like it's going to work out.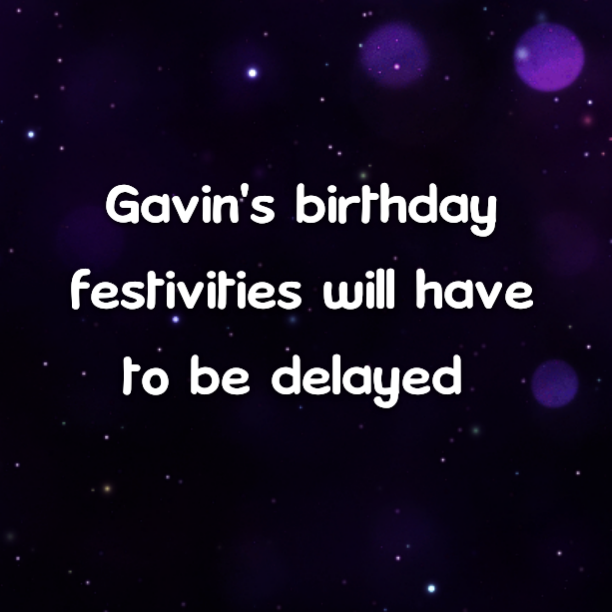 My server host had a billing snafu and charged my PayPal account a significant amount for something I don't even have. That amount wasn't in the account and so it drafted out of my checking account instead.
Long story short, it was more than what was in my checking account at the time and tipped over what would become a domino effect of overdrafts.
My bank has already disputed the amount and that's awesome but they had to wait until it actually posted, which took a few days.
It took awhile but I was able to actually speak to someone in billing at my hosting service and they immediately refunded the amount and apologized. They will also take care of all the overdrafts as well. I need to call back with a fax number for my bank.
The main refund was immediately sent however, while I see it in my PayPal activity as a credit, it's not yet available.
I called PayPal because I've never had this happen before.
Apparently, it has to do with the fact that it drafted out of my checking and PayPal fronted the funds. Through the broken English of the representative that I was speaking with, I learned it has something to do with waiting for the Federal Reserve to release the original funds, or something to that effect.
Basically, the funds are stuck in PayPal limbo for the next few days.
It sucks but it is what it is. Everyone is doing what needs to be done to fix this but it's just taking longer than I'd like.
With any luck, the funds will get released today or maybe my tax return will show up but if not, we'll just delay the celebration until later this week.
Gavin's not worried about it but I am.
It's one of those things that I can't control and so there's no use stressing out about it. We can still make this a special day for him and have the actual party in a few days.
This is real life and real life isn't always pleasant, easy or fun. I guess I'm complaining a little bit but it's just part of our journey..
It's always something with life and you have bend with the wind or be ripped out of the ground by the roots. ☺
This site is managed almost exclusively from my Samsung Galaxy Note 5. Please forgive any typos as auto-correct HATES me. 😉
Please remember to visit my Sponsors, Like, Tweet and Share my posts on your favorite social media outlets.
I can't do this without your help. So, if you like what I'm doing, PLEASE consider supporting my efforts. Click here to find ways you can help for FREE.