The boys will be going to visit their Mom and Grandparents this weekend. I'm a little concerned about Elliott because he's going into this visit already upset about a particular rule that his Mom has established.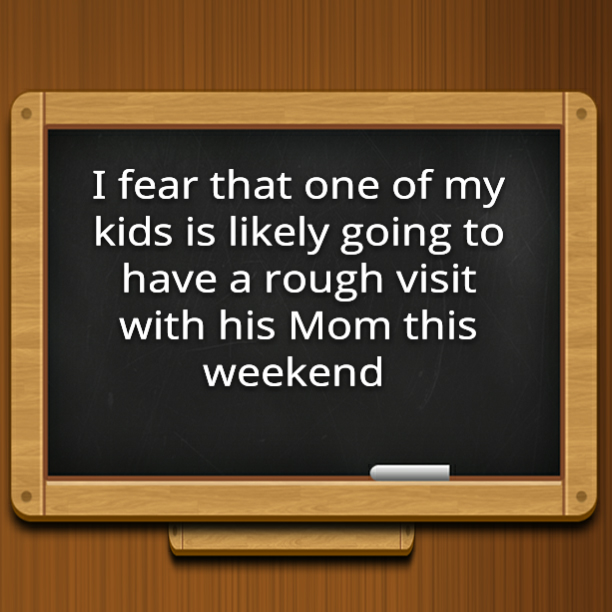 I get where she's coming from with this and understand the principle. While I may think it's a really stupid battle to pick, it's not really a big deal, so I've opted to not involve myself. If it was something even sort of significant, I would deal with but this really isn't anything I'm worried about.
It's going to amount Elliott being upset because he's not allowed to do something he wants to. As this has been building since last week, Dr. Pattie and I have both already spoken to him about this and told him it's best to let it go. We'll see if he actually ends up doing that.

I'm hoping, as always, that they all have a fantastic visit because it's important to take advantage of whatever time they have to spend with their Mom.
Unfortunately, Elliott's not even remotely close to being in a place where he can just let things go. I mean, this kid will just chew on something forever and not let it go. I always refer to these things as a scooter and I'll say to him, Elliott, you can't ride this scooter forever man, you've got to put it down and walk away because it's just not worth it.
If you looked up work in progress, you would see my trying to help Elliott through all this shit, as a prime example of what it's defined as.
I know my family has forever changed but I'd really like to see all the boys have as healthy and happy of a relationship with their Mom as is possible. Admittedly, it's been an uphill battle thus far but we've made some major-ish progress and that's a big, ginormous positive… ☺
This site is managed almost exclusively from my Samsung Galaxy Note 5. Please forgive any typos as auto-correct HATES me. 😉
Please remember to visit my Sponsors, Like, Tweet and Share my posts on your favorite social media outlets.
I can't do this without your help. So, if you like what I'm doing, PLEASE consider supporting my efforts. Click here to find ways you can help for FREE.