These kids being sick of days really need to end. Neither of the boys went to school today, as they were both still with low grade fevers last night. They both seem to be doing okay today, although they are still coughing.
My goal is for them to take today and get back on their feet before returning to school tomorrow.
I'm ready for this all to be over with.

One or both of the boys have been sick for over a week now and I'm starting day four of what's turned into a four day weekend. The previous weekend ended up being a five day weekend, thanks conferences and a snowday.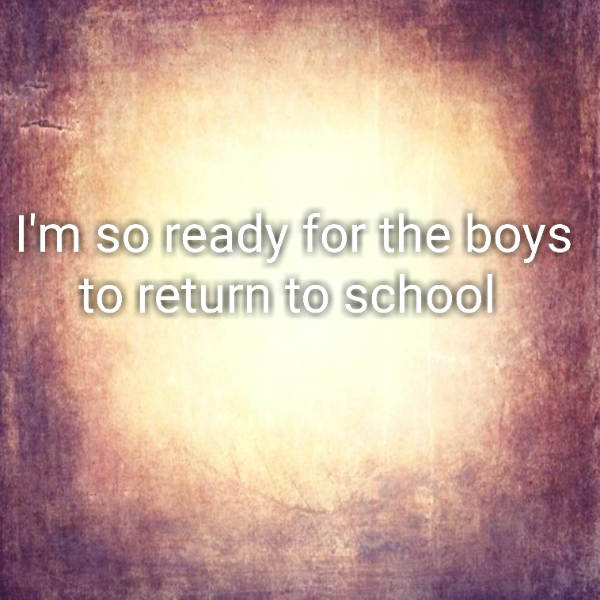 I won't have another chance at a night off for another two weeks, so I'll probably end up being way less productive this week than I should be. I'm just really worn out and fighting off whatever the boys are fighting off as well.
Whatever I'm fighting off seems to be much milder than what the E's are coping with.
As for how the night went:
Emmett struggled to fall asleep until he was snuggling me. At some point he got up and went into his own bed and must have fallen asleep watching TV or playing his tablet. When I woke up this morning, I had Elliott glued to me.
Apparently, he had coughed himself awake and couldn't get comfortable or fall back asleep, so he sought me out and that did the trick.
I woke up with backpain for the first time in a really long time because I was all twisted and contorted last night.
On the positive side of things, the boys have been getting along for the most part and that's something I'm very thankful for because I don't have the energy or the desire (if I did have the energy) to referee all day long.
At this point in time, I'm not having to do that, so I'm grateful for sure.
There's always something to be grateful for or a positive little tidbit to focus on. ☺
This site is managed almost exclusively from my Samsung Galaxy Note 5. Please forgive any typos as auto-correct HATES me. 😉
Please remember to visit my Sponsors, Like, Tweet and Share my posts on your favorite social media outlets.
I can't do this without your help. So, if you like what I'm doing, PLEASE consider supporting my efforts. Click here to find ways you can help for FREE.