Elliott and Emmett seem to have endless amounts of energy. They slept through the night but got up pretty early and just haven't stopped since. There's been fighting and mini-meltdowns galore but I think we've finally settled into a groove because things are heading in a better direction.
Gavin on the other hand, had one of his very first meltdowns in well over a year.
What happened was, Gavin's making his lunch and wanted to have some of the left over Easter ham. I didn't care but when he asked for two ham sandwiches, I told him he could have one because someone else might want some ham as well.

Everything was fine until Emmett wanted some ham for lunch. Gavin's all like, sorry Emmett but I hate to tell you that there's none left.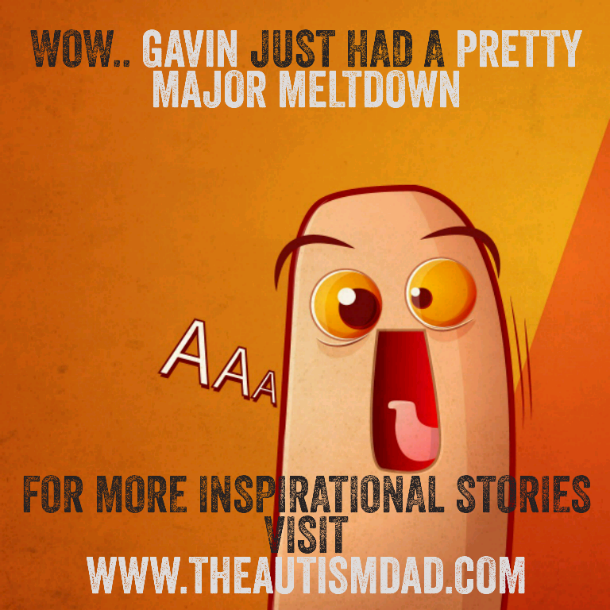 Emmett of course starts to get upset and I asked Gavin if he took two sandwiches after I told him he could have one. He didn't take two sandwiches but instead took all the ham (4 thick slices) and crammed them into one single sandwich.
While he did only have one sandwich, that's certainly not what I meant.
The whole point was to make sure there was ham left over for someone else. He could have had something in addition to his ham sandwich if he was still hungry.
When I questioned Gavin, he started to freak out. He began contorting his body and hitting himself in the head.
I wasn't angry with him, just surprised by what he had done.
Truthfully, I don't know that he did this with the intent of causing a problem. I think this has more to do with his literal interruption of what he was told to do. That said, I did tell him not to take it all for himself, so I'm not sure what to say about that other than he's unbelievably forgetful. I mean seriously forgetful, like he'll walk into the kitchen to make his lunch and walk back out, not having made anything because he forgot why he was in there.
Gavin ended launching into a meltdown and he was very clearly upset with himself. Some might look at this and say he's mad because he was caught but he seemed frustrated with himself for having done what he did or for not understanding my instructions.
He ended up having to go to his room until he calmed down and ultimately fell asleep.
I haven't seen this from him in a very long time and it was a stark reminder of the very fine line we walk each and every day.