Everyday, I arrive at the school about an hour early, start the parent pickup line and enjoy the quiet. I've been doing this for years.
During the before (what we call the 2 year separation), this was really important because the kids were struggling and they felt reassured to see me there early each day. It was important to me that always know I was there for them, especially in those darker times.
That was a long time ago and I continue doing this today. It's become something of a routine for me and one that it's beneficial to my sanity.

It's part of my self-care routine. I enjoy parking in the shade, basking in the quiet and either reading or writing for an hour until the boys are released for their educational prison.. ☺
Recently though, there's been a slight change to this routine and I really look forward to it.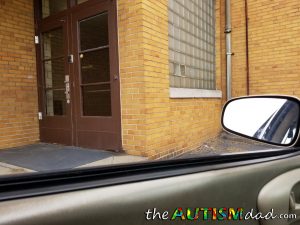 As the weather gets nicer and the kids get to go outside for recess, I get to see the boys playing with their friends. When Gavin was that age, he was having so many behavioral, we never got to see him play with his friends because he didn't really have any.
Gavin is significantly impacted by Autism and is very low functioning. He preferred to play by himself and while I knew that, it was still heartbreaking to know he didn't have any friends, even if it was mostly by choice.
Anyway, Emmett and I have this little Spring/Summer routine now. When his teachers lead them out to recess, they walk right by me.
When Emmett walks by the car, he comes over to the driver side window and we make a trade. He gives me his glasses and I give him my sunglasses. He's very sensitive to bright lights and his transition lens don't really help that much.
It feels good to be able to help him out and see him hanging out with his friends.
The teachers also have a chance to say hello and let me know of anything I need to be made aware of.
Getting there early, and seeing the boys in their element is comforting. It's one of those little things that I treasure.
I'm not the only one to get there early each day. The pick up line starts to populate with cars about fifteen minutes after I arrive. I like being first because it's the only shaded area in the parking lot. It'd be a great deal less relaxing if I was baking in the sun… ☺
Do you have any special routine that you rally enjoy in regards to your kiddos with Autism? Please share in the comments below. I'd love to hear your experience… ☺