Let me start by saying that I've got no issues with a difference of opinion or a spirited debate.  I do have an issue with personal attacks on myself or my readers. 
We never have to agree on anything and I can still respect you for your opinion.  Be civil, respectful and treat people the way you would want to be treated. 
Yesterday I posted something about our water getting turned off.  The purpose of the post was not to create troll bait but instead to try and help others, using my current situation.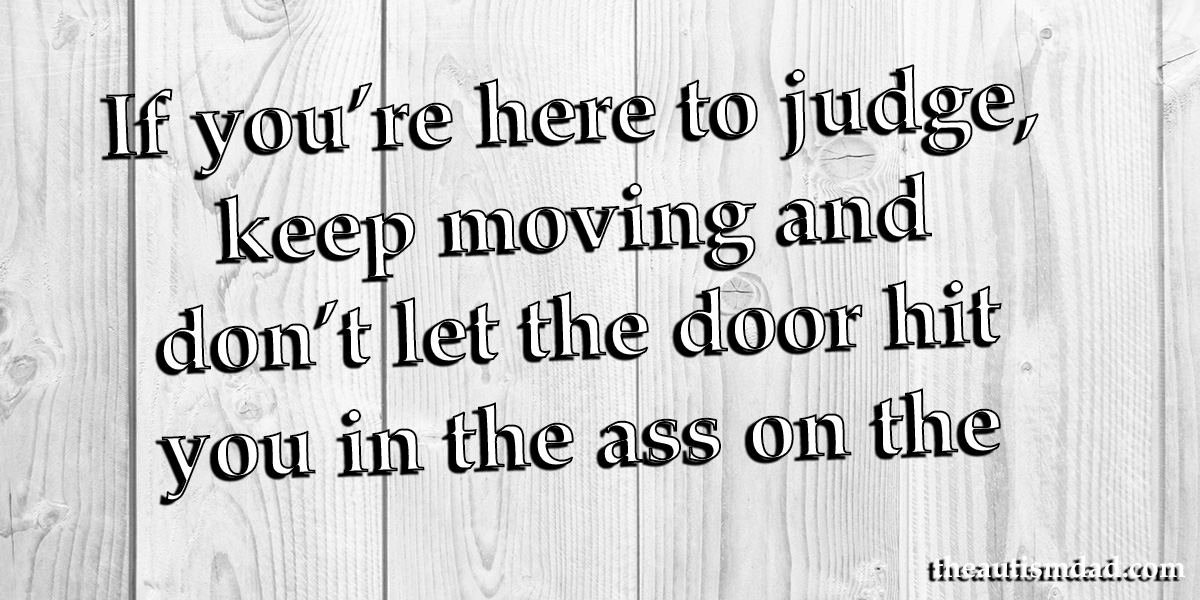 The whole point was to show that shit happens. It's not pleasant but no matter what, you have to keep your chin up, keep moving forward and don't give in.
Rather than take that as a positive post, some people feel the need to judge, ridicule and make assumptions that are ridiculously off base.
Yes, I'm aware that I put myself out there and I don't mind constructive criticism but judgment is something much different.
The purpose of this blog is to provide comfort and support to the Autism community.
My blog has gotten so big that I can really make a decent living through ad revenue, sponsored posts and leasing ad space.  Being able to help others while providing for my family is a perfect solution for a very complex problem.
I share the things I share because it's what happens in my life.  My story has been vetted many times over the years and I've won tons of awards for my writing.  I've been internationally recognized for my contributions as well.
Whether you get something from my efforts or not, many others do.
While I don't publicly share emails and messages, I get tons of emails from people telling me how I've impacted their lives in a positive way.
It's amazing how just knowing that you aren't alone or that others are feeling the same way, can impact someone's life.
That's what I'm trying to do.
Please take my posts within the context they were written.  I'm happy to answer questions but if you're just here to troll, do so elsewhere.
I've only had to ban 3 people in the last 6 years because my readers are amazing. If anyone comes here to cause trouble or be disrespectful to others, you will be warned and then banned.
Remember that you can help my efforts by donating, sharing my posts and by simply checking out my sponsors.  Everything helps to keep these services alive, whilst allowing me to provide for my family at the same time.
You can find more information on how you can support my efforts by visiting here.