Today is going to be a tougher day for me personally. For starters, I'm exhausted and won't have a chance to catch a nap today.
Being that tired doesn't help much in regards to seeing the positive side of things and that's something that I need to be able to do today.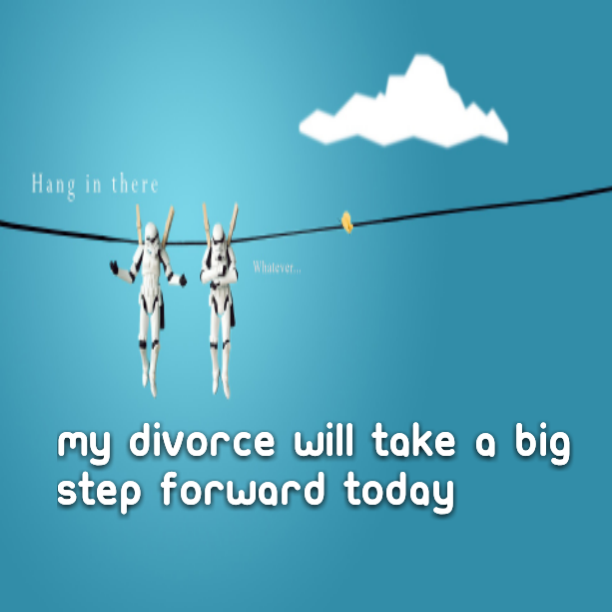 In just a little bit, I will be meeting my wife to finalize our divorce paperwork and get it notarized.
It's something that needs to happen and I get that. Frankly, most of me wants it to happen at this point but at the same time, it's very difficult.
That being said, I don't share the level of enthusiasm as her about officially calling an end to the family we built together.
The only reason it took this long is because I refused to sign anything for at least 6 months to a year. I was completely caught off guard and didn't understand what was going on.
It was important to me to try and work through whatever was wrong before just throwing our family away. I wanted to be able to look my kids in the eyes and tell them that I did everything possible to avoid this.
Unfortunately, my efforts to seek marriage counseling were fruitless and so all I could so was slow the process down because that way nothing was rushed into.. I had hoped and prayed that whatever was wrong could be worked through and we could move forward, stronger and better for having gone through it.
Unfortunately, it takes both people to make things work.
Through all the shock and disbelief, I've learned that this is the best thing for myself and the boys but how messed up is it to even say something like that.
Anyway, there may or may not be a parenting class that we have to take, which is more money that I don't have at the moment but once filed, it should be a pretty quick process.
She'll have the freedom she wanted and I'll hopefully find some closure.
Nothing will change really for the boys as this is all just the legal stuff they need not be a part of. It will officially and legally put me in charge of my kids as well.
It's really a sad thing and I never in a million years would have envisioned this happening but life is funny that way.
As time has gone by, I begun to see things for what they were, what they are and what they will likely allways be.
I loved being married. I'm built to be married.
My dream from a very early age was to be married and build a family. I had that and these papers are going to put an end to that dream, at least in its current form.
It's long past time that I finished this.
Trusting people, including myself is very difficult for me now but I imagine that's something I'll work through ad time goes on.
I hope that someday, I'll have a second chance at marriage but I'm in no hurry. The boys are my priority and that doesn't leave a great deal of time for anything else.
At the end of this nightmare, at least I have my kids and frankly, that's the most important thing to me.
In a weird way, I consider myself blessed to have had things work out the way they have.