It's been many months since I received any news from the Cleveland Clinic in regards to the genetic testing Gavin had last year.
Last year, Gavin had a very specific genetic test performed to diagnose something called Jalili Syndrome.
I received a call last year out of the blue from a genetic counselor at the Cleveland Clinic because Gavin's specialist at The Cole Eye Institute had reason to believe that Gavin may in fact have Jalili Syndrome.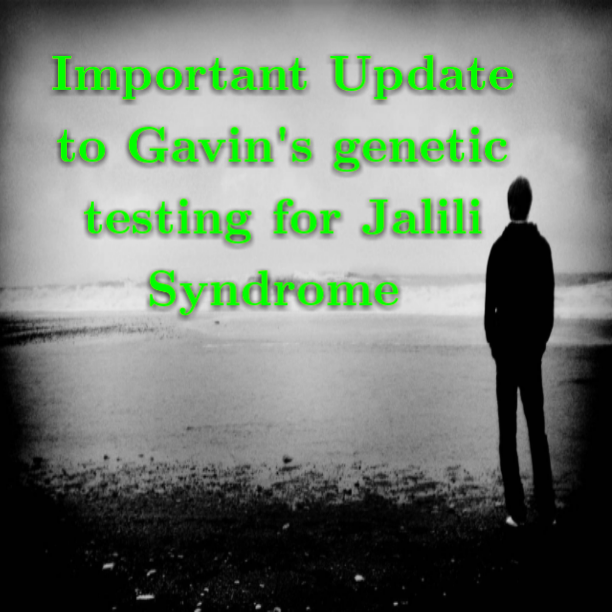 Follow the above link to learn more about Jalili Syndrome because I have no idea how to explain it. All I know is that is extremely rare, as in literally only a handful of cases in the world.
Anyway, it's been many months since the testing had been done and I hadn't heard anything.
With everything going on in our lives, I had forgotten about the testing until I got a surprise email this past week.
This email was from the guy who actually discovered this disorder/syndrome and named it.
Ismail Jalili 
MD, FRCS, DO, FRCOphth 
Consultant Ophthalmologist 
Hon. Professor in Ophthalmology 
United Kingdom
He basically saw one of my YouTube videos in which I spoke about this and then discovered this blog.
It's not very often that someone of this caliber, reaches out, offer to get involved in the process, consult with Gavin's doctors and help out in any way he can.
This was not only amazing but it prompted me to reach out to The Cole Eye Institute and inquire as to the status of the genetic testing.
Long story short, even after all these months, the results still aren't in.
Apparently, because Gavin's involved in a research study associated with the disorder, the testing takes a much longer period of time to come back.
I'll be notified as soon as the results are received.
I've reached out to Ismail Jalili and explained where we stand. I'm waiting to hear back.
While we don't know anymore than this, it has put this in the forefront of my mind again.
This is a pretty big update, even though I haven't really learned anything new.
This site is managed almost exclusively from my Samsung Galaxy Note 5. Please forgive any typos as auto-correct HATES me. 😉
Please remember to visit my Sponsors, Like, Tweet and Share my posts on your favorite social media outlets.
I can't do this without your help. So, if you like what I'm doing, PLEASE consider supporting my efforts. Click here to find ways you can help for FREE.