My wife left about a year and a half ago now. I'm actually doing pretty good but ever since she left, I've been having nightmares related to the loss.
It's weird because I'm relatively adjusted to everything now and if given the opportunity, I would never go back into that relationship but I still have really bad dreams on the subject. These aren't every night but they're often enough that it's upsetting.
Over the years, I would have these occasional nightmares where I would wake up in the morning, in my house but my family didn't know who I was. It amounted to me essentially losing my family. That's my absolute worst fear because my family is everything to me.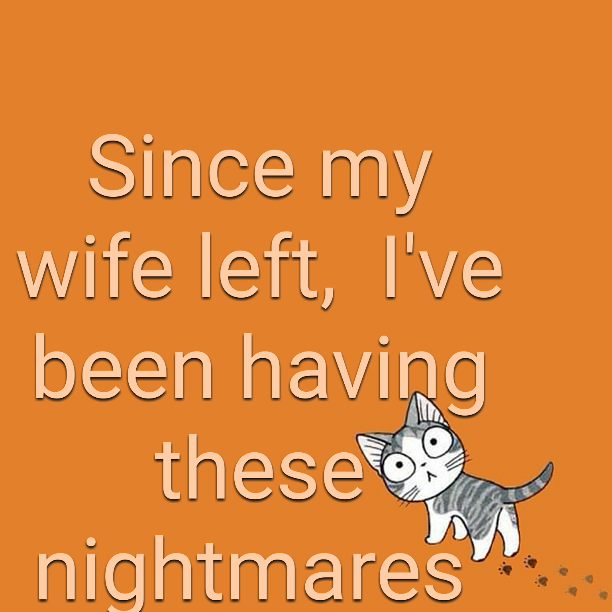 I think losing my wife, sorta kicked that fear into overdrive a bit.
I can't for the life of me remember the details of my current nightmares but I remember the context and the emotional response ilthey trigger. I remember waking up in a cold sweat and having to slowly orient myself…
Last night's was a pretty bad one because I woke up a couple times and had this overwhelming feeling of absolute loss.
They say that dreaming is our subconscious, trying to work things out while we sleep. If there's any truth to that, maybe the fact that what happened in my life still makes absolutely no sense. I've only been able to attribute it to mental illness, that led her down this path.
It's tough to find closure when you don't know what the hell even happened.
Anyway, that's your little peak inside my crazy head for the day…
I'm always open to your thoughts and insights.. I'd like to better understand this whole thing but I haven't really made it too far because there was nothing that happened. One day everything was fine and the next, not so much….
This site is managed almost exclusively from my Samsung Galaxy Note 5. Please forgive any typos as auto-correct HATES me. 😉
Please remember to visit my Sponsors, Like, Tweet and Share my posts on your favorite social media outlets.
I can't do this without your help. So, if you like what I'm doing, PLEASE consider supporting my efforts. Click here to find ways you can help for FREE.