Emmett stayed home from school today because he's got a cough and is running a fever.
I've talked to his Mom a couple of times today and we both agree that while she's going to miss him and I'm going miss my one night off every two weeks, he needs to stay home and rest.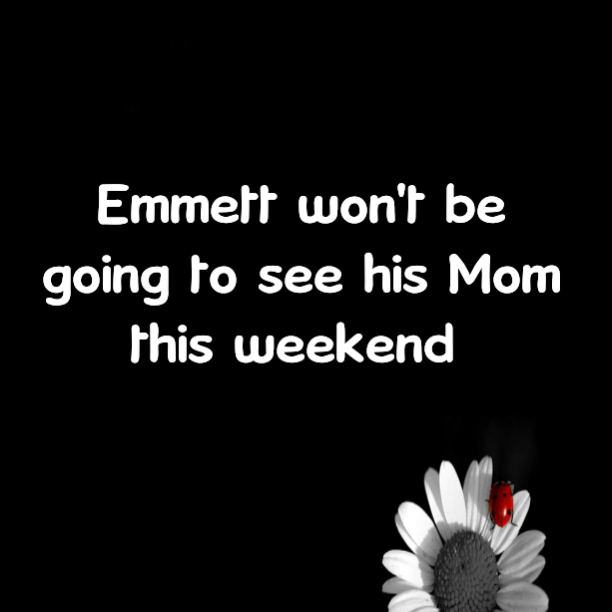 I was hoping as the day went on, he'd feel better but it's just not happening. I'm unsure of how Elliott's going to react to this turn of events because these two tend to not like being separated.
While I've said before, I don't agree with much of what the boys Mom has done, is doing or probably will do and some of you have read about her feelings towards me, we can still put that aside and do what's best for the boys.
She knows without question that I would never maliciously withhold the boys from her and that if I feel that one of the boys is too sick to come visit, they're too sick to come visit.
While I will never again be friends with her because too much has happened that makes that impossible for me, at least for now anyways, there's still the ability to set all our personal feelings aside, when it comes to the boys.
I'm not saying this for any other reason than to illustrate that even though there are significant personal issues between parents both during and after divorce, you still have to do your best to work together and do right by your kids.
In most cases, it's not impossible to make these things work. It's not going to always be easy. It takes time, patience, effort and a willingness to set your personal feelings aside, long enough to make rational decisions together, for the betterment of
I do feel very lucky that we have thus far been able to do that and I am fully committed to continuing down that path, as I know she is also. ☺
Please don't take this post out of context because it's meant to deliver a positive message, aside from Emmett being sick..
This site is managed almost exclusively from my Samsung Galaxy Note 5. Please forgive any typos as auto-correct HATES me. 😉
Please remember to visit my Sponsors, Like, Tweet and Share my posts on your favorite social media outlets.
I can't do this without your help. So, if you like what I'm doing, PLEASE consider supporting my efforts. Click here to find ways you can help for FREE.