I'm sure there are many people out there that will be able to relate to this. At the same time, I know there many other who's child is nonverbal and this will be something they wished they had to deal with.. My youngest was nonverbal for most of his life and so I understand the unique set of challenges and heartache associated with that.
Please know that I am only sharing my experience and that I'm extremely grateful for my sons ability to speak. My heart goes out to everyone who struggles with speech, in one form or another..
Having said that, I wanted to talk about how difficult it can be for me to have to listen to the same thing or same topic, all day everyday.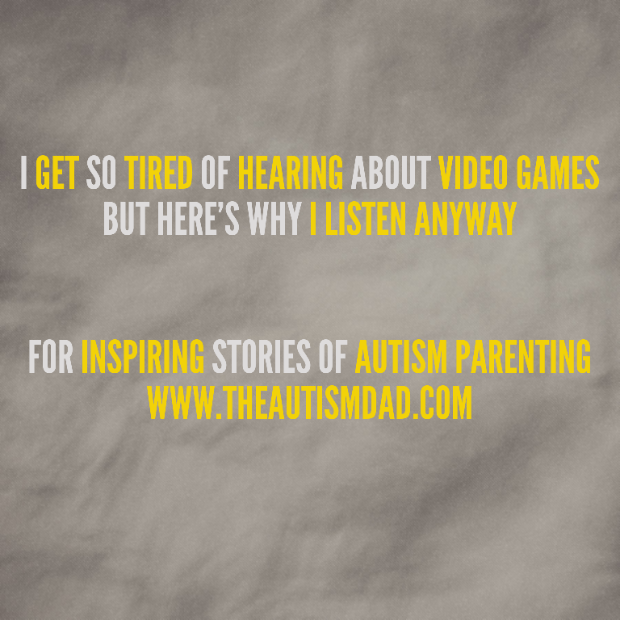 As far as speech goes, Gavin can talk. He has a pretty decent vocabulary but struggles with articulation, pronunciation, choosing the correct word and expressive language.
Gavin has 2 subjects that he's able to talk about and does so for pretty much every conversation, in every situation he's in.
If Gavin meets someone, he will say something like, hi, guess what game I just downloaded on my tablet? You can also replace game and tablet with anything Lego related as well. All he can really independently talk about is Legos or games on his tablet, without being redirected.
This morning I asked him how he was feeling and he turned around and answered with, hey Dad, guess what game I just downloaded? I'm like, Gavin I have no idea what game you downloaded, how could I? That's not what I asked you about..
Throughout each and every day, Gavin is always talking about his games or Legos.
As grateful as I am that he has the gift of speech, I can also get to the point where I don't want to hear about another game or Lego creation…….ever… It's so exhausting and even frustrating because when I ask him a question, sometimes I actually need an answer to said question.
There are many times where listening to him talk about video games or Legos is akin to nails on a chalkboard but despite that I listen as best I can. I need breaks and I'm not afraid to tell him that. If he veers off topic when someone asks him a question, I will steer him back on the road.
Then there are some times where he can be spot on with his conversation skills.
Either way, it's truly exhausting..
Does your child have a particular topic or subject that they talk about endlessly? What is it and how to you deal with it?
This site is managed almost exclusively from my Samsung Galaxy Note 5. Please forgive any typos as auto-correct HATES me. 😉
Please remember to visit my Sponsors, Like, Tweet and Share my posts on your favorite social media outlets.
I can't do this without your help. So, if you like what I'm doing, PLEASE consider supporting my efforts. Click here to find ways you can help for FREE.