I'm grateful for all my kids and don't play favorites but I'm especially grateful for Gavin.
Gavin has made such an amazing transform over the last year and a half.  Where he's a new person or finally allowed to be who he is, he's doing amazing.  I wanted to shine the spotlight on him for a minute and share how much I appreciate him.
I have an amazing relationship with Gavin and he's so much fun to be around. That doesn't mean he's always easy to be around because any kid with his challenges can be difficult but he tries so hard to do the right thing.

There was a time where it appeared that Gavin was a sociopath and we were looking for long-term residential placement.  It was absolutely heartbreaking.
While I never was completely on board, it was hard, if not impossible to ignore the chaos that surrounded him and the drama that shook our home.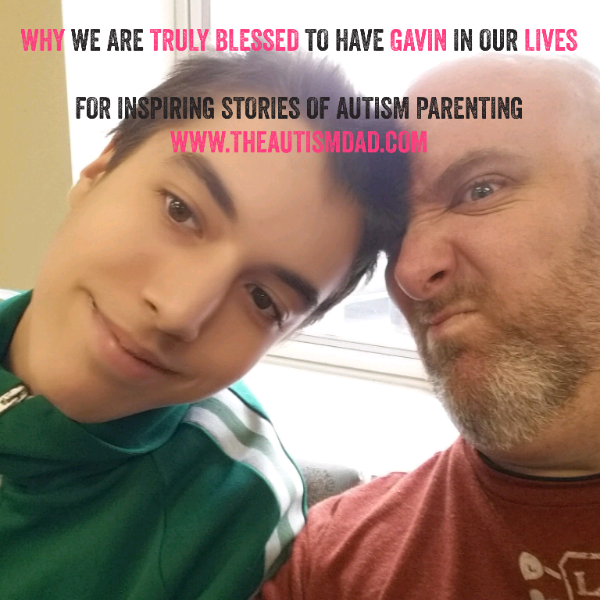 The Gavin that exists today is someone with whom I can trust completely (as much as you can trust someone with his type of mental health or cognitive issues and I don't mean that in a negative way, just being realistic). He's genuinely concerned about his brothers and me.
There probably isn't an hour that goes by (while he's awake) that he's not asking if there's anything he can do to help.
He's taken over doing the dishes, managing the trash, recycling, has learned to do laundry, use the microwave/toaster oven, walk into the local Little Ceasars to buy pizza all by himself (while I wait in the car and carefully keep a close eye on him) and even walk into do his therapy or bloodwork all by himself as well.
I find it completely awe inspiring that with all the things he deals with, every single day of his life, he never – ever complains about anything and he's always more worried about everyone else around him than he is himself.
How could I be any prouder? I don't know, but Gavin constantly shows me how much prouder I can be, with every amazing thing he does.
As hard as life has been since we started this new journey, just the four of us, the hugest, most enormously positive thing to come out of all this heartache is that I have my son back and the boys have a big brother they can look up to…
We are truly blessed to have Gavin in our life.
This site is managed almost exclusively from my Samsung Galaxy Note 5. Please forgive any typos as autocorrect HATES me. 😉
Please remember to visit my Sponsors, Like, Tweet and Share my posts on your favorite social media outlets.
I can't do this without your help. So, if you like what I'm doing, PLEASE consider supporting my efforts. Click here to find ways you can help for FREE.