I don't ever really do this but I decided to take the day off from writing. I don't think a day has gone bye since the split, that I haven't written but I just needed to shutdown for a little while. 
I've not had a good day. I'm sick and honestly, pretty miserable. 
Before the boys left for their Mom's last night, I was showing Emmett that he can call my phone from his tablet, as long as he's on WiFi.  I didn't really expect him to actually do it but I thought if he had the ability to contact me on his own, he'd feel a little more secure and maybe have more fun.

Emmett must have called me close to a dozen times, beginning within minutes of him arriving at his Mom's and Grandparents house. 
I honestly don't mind but I want him to focus on the time with his Mother because he doesn't get much of it. 
He found any excuse to call.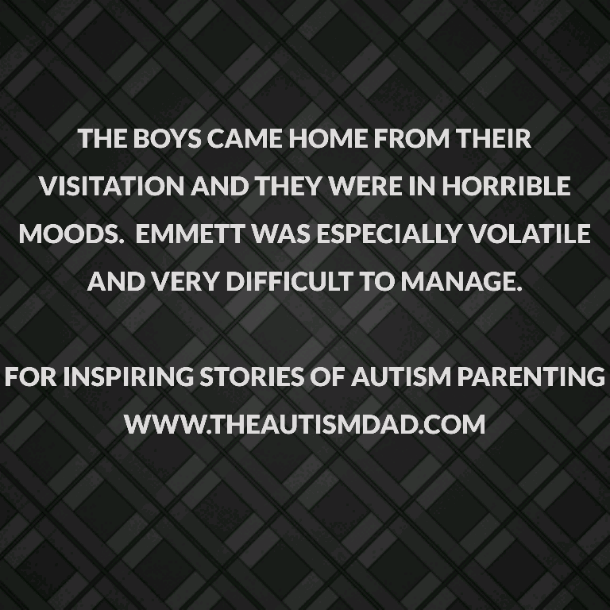 Apparently, Gavin had a hole in his socks and he was freaking out. What does Emmett do? That's right, he calls me from his tablet to tell me that Gavin's having a rough time. Gavin was definitely upset. The fact that he thought to call, was actually pretty cool but Mom and Grandma were handling it just fine. 
He called me to say he wasn't feeling well and then he called to check on the ferrets.  He called to make sure it was working and that I would answer it…
My goal was to help him feel more comfortable by giving him a means in which he could reach out to me on his own, without anyone helping him.  It sorta gives him some power and I want my kids to feel empowered. 
At the same time, I don't want it interfere with his visits either.
The boys came home from their visitation and they were in horrible moods.  Emmett was especially volatile and very difficult to manage.  I don't know what the deal was but I'm writing this 5+ hours after returning home and he's still in a horrible mood, as well as not sleeping. 
My personal stress level is so far beyond too much right now that I didn't even watch TV tonight.  I'm just trying to decompress and maybe find a way relax…
I'm just hoping that we will have a decent day tomorrow and survive until it's time for the boys to go back to school on Monday.
This site is managed almost exclusively from my Samsung Galaxy Note 5. Please forgive any typos as auto-correct HATES me. 😉
Please remember to visit my Sponsors, Like, Tweet and Share my posts on your favorite social media outlets.
I can't do this without your help. So, if you like what I'm doing, PLEASE consider supporting my efforts. Click here to find ways you can help for FREE.