I don't know how to really describe today because it was a rough one. Being an Autism Dad for as long as I have, one would think that I would eventually find things getting easier, rather than harder but on days like today, I'm jot sure that's the case.
It was like the Universe was conspiring against me at every turn today.
Getting the boys to school proved to be extremely challenging because Emmett misplaced his water shoes, after wearing them to school on Monday for the first time in ages.

I couldn't put him in his tennis shoes because we had taken the insoles out and put them into his water shoes. These are custom made inserts, made specifically for him and there is zero chance he'd wear shoes without an insole. I can't blame him for that but the point is, it was a really rough morning.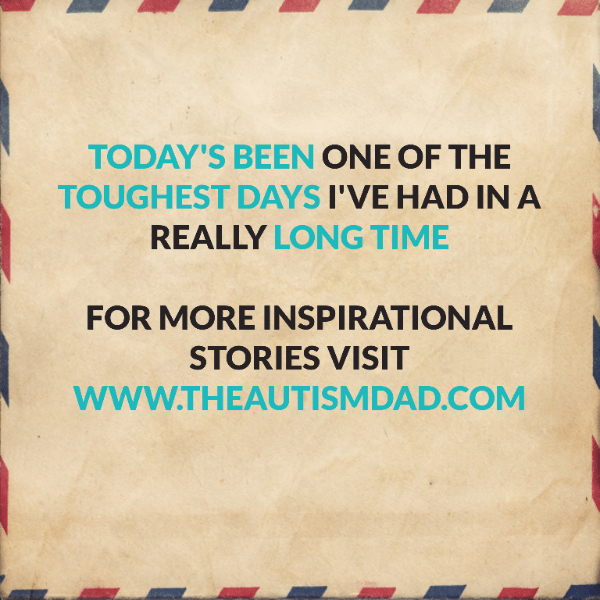 Gavin was out of sorts today for some reason. All he did was talk about his tablet games, all day long.
Any chance he got, it was all about a game he was playing. He would even gloss over any questions I had for him throughout the day and redirect the conversation back to his games. I swear to God, I love this kid and I would never have gone through even a fraction of what I have with him if I didn't. Having said that, I had to lay down and pretend to sleep this morning, just to get him to stop talking.
Gavin has struggled all day and this led to him having meltdowns that I haven't seen in some time now. He physically kept himself in check, at least to the extent that he was a threat to anyone and I give him all the credit in the world for that.
After picking Emmett up from school and heading to therapy, Gavin struggled in speech. He wasn't able to answer a question and the therapist was trying to tell him that it was okay but Gavin kept making excuses.
I was watching from behind the glass and as his voice got a bit more aggressive, I stepped in and caught him off guard.
We all tried to calm him down and build him up but he was done and there wasn't anything anyone could do to help him feel better at that point. He did keep it together, for the most part.
Unfortunately, the tone for the rest of the day had been set and that was just that.
Therapy tonight at Dr. Pattie's, involved Elliott having a pretty massive meltdown and when it came time for bed, let's just say that was loads of fun..
In between all of this crap, our water was shut off without me even knowing they had been here. So I had to scramble to address that before they closed for the day and with the help of my parents, I got everything straightened out.
I'm tired and all I want to do is sleep but I know that I'm likely to once again wake up as a result of these nightmares I've been having for weeks now. I'm so tired I keep falling asleep while writing this, so I'm just going to call an end to this particular post and try to get some sleep…