Over the years, there have been a few areas in regards to Autism parenting, that have really become personal for me. Wandering is among the most important of them.
As a father of 3 boys with Autism, I count myself truly lucky that we haven't had to deal with wandering, any more than we have.
I've shared on a few occasions, how Gavin managed to let himself out of the house at least twice. We found him collecting recycling out of people's trash cans.

I don't think Emmett ever successfully escaped but my goodness, he was determined to. I was able to snap this picture when he was younger. It shows the lengths he would go to let himself out of the house.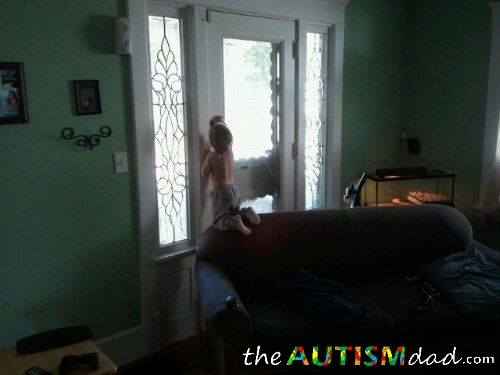 This is no joke. I think he was maybe three at the time and would push the couch across the floor, so he could reach the door locks. There wasn't a lock we could find that he couldn't figure out.
We eventually had to move to double-sided deadbolts but that became too dangerous and removed them. In the event of a fire, we don't want to have to look for a key and if we had the key in an accessible place, he would find it.
Lizze and I struggled for years to overcome this obstacle but Emmett is so darn smart, he could pretty much undo anything we did to secure all the egress points.
It wasn't until a few years ago that I connected with the Vivint Gives Back foundation.
We've had alarm systems in the past and to be honest, they were overwhelmingly negative experiences. Our account would get sold to other companies and prices would go up until we couldn't afford to maintain the service.
Vivint Gives Back is different in the sense that they exist to assist the Autism and Special Needs community. In simpler terms, they want to help.
They provide state of the art smart home and security equipment to families with kids that are at risk of wandering. Like my own, many families with special needs kids can't afford things like this. Life is not easy on the best of days and money is can be tight.
Vivint Gives Back provides families that qualify for the program, with free equipment and the monthly monitoring fee is based on each families individual income.
When I agreed to partner with Vivint Gives Back a few years ago, it was only after I insisted on going through the exact same process that anyone else would go through. That means I pay a monthly fee, just like everyone else. Based on my family's income, we pay $15/month.
That $15/month is something that we're able to afford. Some months are harder than others but for the peace of mind we have received in exchange, it's an invaluable resource for us.
We utilize smart cameras, smart deadbolts, motion, window and door sensors.
The camera allows us to monitor our kids, without having to be on top of them all the time. We can do this from our panel, phone, tablet or computer. In fact, we can monitor and speak with our kids from anywhere we can connect to the internet.
We can communicate via the builtin, two way intercom as well. At night, the cameras monitor for motion. If one of the boys wakes up and leaves their room, we are immediately notified.
Between the smart deadbolts and door sensors, we are notified the moment the door is unlocked and/or opened. This allows us to immediately intervene and prevent anyone from leaving the house without our knowledge. We also have the lock programmed to automatically relock after 20 seconds so we never have an unlocked door.
We've never had anyone try to elope through a window but it's a very real risk for many kids with Autism. The moment the windows begins to open, we're immediately notified.
Not only are we notified of these events in real time, we also know which door or window has been compromised as well.
There are other security-related features like doorbell camera, smoke, and C02 detectors but when it comes to wandering, the above paragraphs are probably the most important.
I don't get anything if you decide to sign up and I did that on purpose. I never want anyone to get the impression that my motives are anything but pure.
Look, wandering is an epidemic within our community. Stopping it is all but impossible. The only thing we can do as parents is limit our kids' ability to elope as much as possible and intervene immediately, should they try to leave the house.
I know what it's like to lose sleep because due to fear that my child will try to let themselves out of the house in the middle of the night. So many families like mine have resorted to piling furniture against the doors to keep their kids from eloping. Some have had to put bars on the windows and double sided deadbolts on the doors. As parents, we do whatever we can to keep our kids safe.
If you walk away from this post with anything, I hope it's with the knowledge that you don't have to do this on your own. We want to help you keep your kids safe. We want you to sleep better at night. We want you to have the peace of mind that every parent deserves.
If you have any questions, whatsoever, please feel free to reach out to me directly.
You can find everything you need to know about Vivint Gives Back by clicking here. Let them know you heard about this from me. It helps me learn how to better reach families in the community that need help.
If I can be of any assistance, please don't hesitate to reach out.