I suppose the title says it all.
I'm pretty close to losing our house and the reason I'm sharing this is because it had an impact on a really tough decision I made today..
Anyone that truly knows me knows that I take my family very seriously. It's my responsibility to provide for them and no one else's. My goal is to be as physically and financially independent as humanly possible. That's always been my goal.

I was able to meet that goal for long time, until I got hurt and things slowly unraveled from there but that's really kind of irrelevant at this point.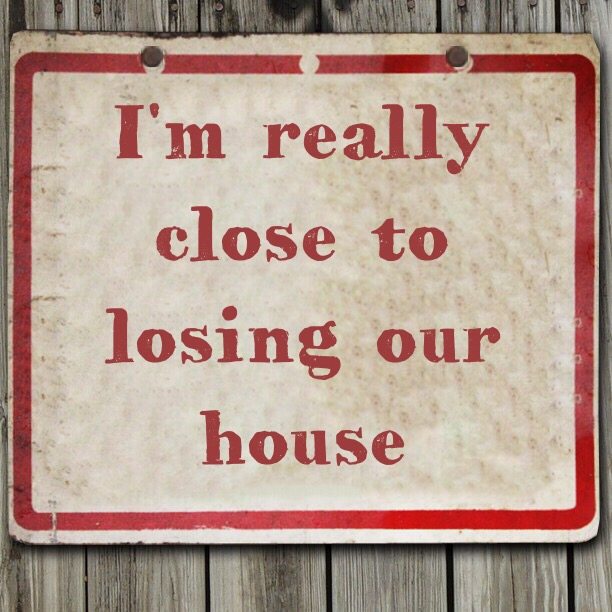 Once upon a time, I would have been more upfront about this because I believe that I'm far from the only special needs family that is facing these kinds of challenges. I used to share this particular kind of truth more regularly before because it helped to provide additional insights into what life is like for families like mine.
When my wife left, everything sorta got jumbled up inside my head and I started playing things a little closer to the vest.
As time has gone by, I've begun to realize that knowing you aren't alone in the challenges you're facing is a pretty powerful thing. So I've come to the conclusion that hiding these things or rather, playing the, so close to the vest, doesn't really help anyone.
The more you know about the challenges someone faces, the better you will be able to put things into context. It helps to provide a better perspective as to why I'm stressed out, not sleeping and whatever else.
That being said, I'm in real danger of losing my house. I've fallen several months behind and I just can't get caught up. It feels pretty shitty to even say that out loud.
I'm doing everything I can prevent this and I have a few potential solutions in the works but they're more of the long term variety. In other words, there's no immediate fix.
Earlier I mentioned that I made a tough decision and it was nothing short of that.
For years, we'd been advised to apply for SSI (social security benefits) for Elliott and Emmett. I was never really excited about that idea because I didn't want that to sorta define the rest of their lives.
It was easier with Gavin because he's clearly disabled and is only capable of functioning in a relatively limited capacity. Yes, he's doing well but the core issues will never change.
Anyway, I spoke to a company that presceens people for eligibility and it was recommend that I pursue disability benefits for the two youngest.
I spoke with my local social security office and I have appointments within the next two or three weeks. It should be a fairly straightforward process in terms of medical records.. When the boys were diagnosed, we were very careful how we did things in order to make sure we did right by the them.
We've already been to the doctors or hospitals they are going to want us to go to.
I'm not saying it's going to be easy or even possible. I'm just saying it should be relatively straightforward..
While I dislike having to do this, my hands are tied in so many areas and there's only so much that I can actually do. It would make a big difference for us and put me in a better position to meet their needs.
I have t remember it's about the boys and not my misguided sense of pride.