I was up bright and early this morning. I didn't get much sleep but I still delta pretty good.
As the morning moved on, Elliott pervasive thinking took venter stage.
Since last night, he's become obsessed with getting this little tiny ball that's in the basement, next to the litter boxes. He's also wanting to take one of the Christmas ornaments and turn it into a SlugTera Slug for him to play with.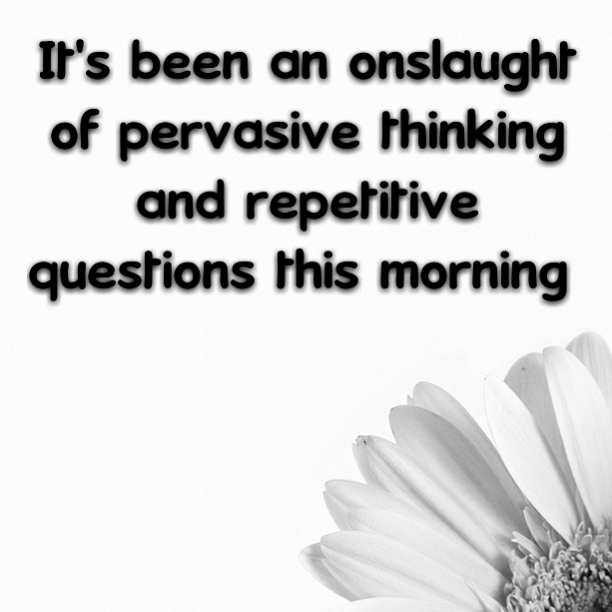 I've said no to both for various reasons and 8 need to stick to my guns on this and not let him wear me down.
It's easy to see that he's in distress over these things but giving him what he wants with help for a few minutes and then he'll do the same thing all over again with something else.
Since his Mom left last year, it's been an endless cycle.
It was so bad this morning that I was physically and emotionally exhausted from him constantly repeating himself.
I closed my eye and went to my happy place. Unfortunately, my happy place has run away as well and so I ended up falling asleep on the couch while they watched their cartoons and Emmett sat on me.
It wasn't even so much that I was sleeping because I was still hearing everything and constantly answering Elliott's questions.
I think it was my body just shutting down a little bit and trying to preserve my sanity.
Pervasive thoughts can lead to constant, repetitive questions and I have experienced few things in my life that are equally exhausting and overwhelming.
This site is managed almost exclusively from my Samsung Galaxy Note 5. Please forgive any typos as auto-correct HATES me. 😉
If you like what I'm doing, PLEASE consider supporting my efforts. Click here to find ways you can help for FREE.