I was so stressed out and nervous about going to the doctors today that my blood pressure was really high, as was my heart rate.
My BP was 140/91 and my heart rate was 105bpm…
I don't know why I get so nervous but I do.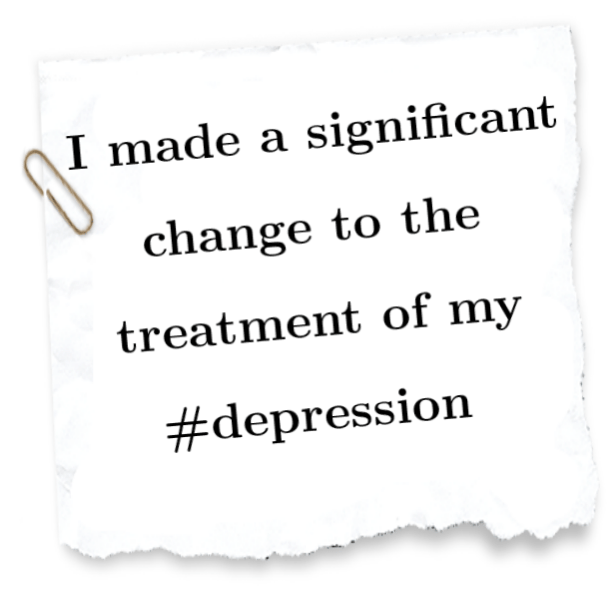 Anyway, my big issue today was addressing my depression and managing it a better than it currently is.
I've been on 40mg of Paxil for years and lately it just isn't helping as much as it used to.  There's a number of reasons for that but only one real solution.
Rather than change medications altogether, we opted to add a second medication instead.
Here's a list of things I'm struggling with:
1) Tired
2) Difficulty sleeping
3) Lack of energy
4) Lack of motivation
5) Foggy thoughts
This is just a few of the symptoms I'm experiencing but it's enough for me to recognize that I need more help than I'm getting.
Wellbutrin has been added to my daily routine and with any luck, the dosage will be right the first time and things will begin to get better.
You can't just take medication and expect to get better.  Climbing out of depression is hard work and requires changes in your life when possible.
Things like exercising, removing alcohol and or smoking from your life is important.  Talking to someone you trust is extremely important as well.
I don't smoke or drink, so I'm good there. I also exercise whenever possible because I can feel a difference after walking a few miles at a good pace.
Anyway, I don't know my cholesterol levels yet because I need blood work for that.
I'm feeling pretty okay about this appointment but I am a little frustrated with myself for not losing the weight.
All things in good time though..  ☺
This site is managed almost exclusively from my Samsung Galaxy Note 5. Please forgive any typos as auto-correct HATES me. 😉
Please remember to visit my Sponsors, Like, Tweet and Share my posts on your favorite social media outlets.
I can't do this without your help. So, if you like what I'm doing, PLEASE consider supporting my efforts. Click here to find ways you can help for FREE.