On Monday, Gavin saw his long time psychiatrist Dr. Reynolds. Dr. Reynolds is the prescriber of Gavin's absolutely necessary, without question or hesitation, antipsychotic Clozapine.
As of Monday night, Gavin was under new orders for the use of the medication.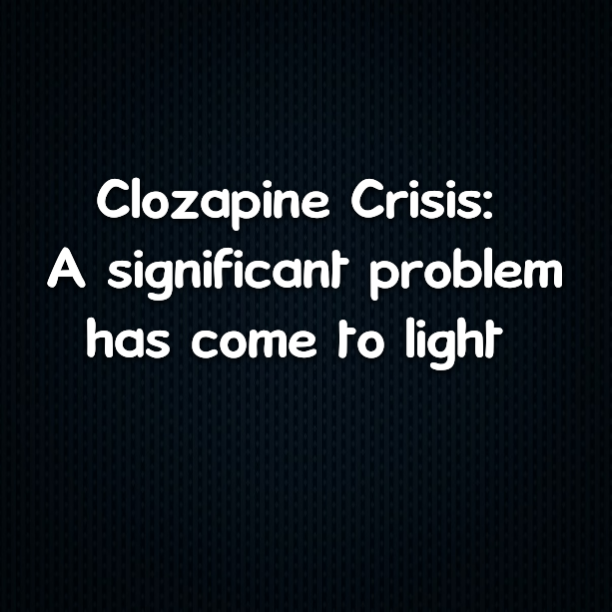 Rather than requiring bloodwork every two weeks, in order to get two weeks worth of pills,  he's been bumped up to a 30 day supply.

This means that he only needs bloodwork once a month, in order to get a 30 day supply of Clozapine.
I spoke with the pharmacy on Tuesday and they said that because bloodwork is only required every 30 days, we can likely fill the new script without the need of new bloodwork because the current bloodwork is only 14 days old.
I went to pick up his refill today and it wouldn't go through. Then I heard the dreaded words,  there's a problem Mr. Gorski.
Let me explain the process of obtaining Clozapine and the nightmarish hoops you have to jump through.
Clozapine is the most tightly controlled medication in the United States and it's banned in most other countries.
Clozapine is a last ditch effort, used in the treatment of schizophrenia.  It also happens to be the only medication in a very long list of medications, that has controlled Gavin's symptoms.
For the first six months that you are on Clozapine, you are required to have bloodwork done on a weekly basis. The lab certifies the results and would send them to the pharmacy.  The pharmacy would then fax the results to the monitoring board, who would then give permission to release seven days worth of pills.
The process has recently changed and the pharmacy is now bypassed.  The lab sends the certified results directly to the monitoring board. The pharmacy will then call into the monitoring board and seek permission to release the next seven days worth of pills.
This is the process for the first six months.
If all goes well and you don't miss a single dose, you'll move to the next phase for another 6 months.
In this phase, the process is largely the same. The only exception being that bloodwork is now only required every two weeks and you can get 14 days worth of pills at a time.
If all goes well and you don't miss a single dose, you'll move to the final, longterm phase.
This is the phase he entered once again on Monday of this week.
Bloodwork is required every 30 days and you receive 30 days worth of pills at a time.
As long as everything continues to go well and you don't miss a single dose, this is carried on for the duration of time you take the medication.
If you should happen to miss more than one dose or go any further than 30 days without bloodwork, resulting in a delayed refill, you must start all over again.
That means starting at the initial dose and building back up over the course of an entire year.
This has already happened to Gavin once before when there was an issue getting the refill about a year ago.  Last time it was an issue between the pharmacy and the doctors office, that resulted in Gavin going two days with his meds.
Restarting Clozapine is very dangerous, as the risks grow significantly the second time around.  Gavin has suffered from bladder control issues since the restart of his Clozapine last year.
What's happened this time is really strange and concerning..
I went to pick up his new script today and I was told that there was a problem.  That immediately resulted in me getting sick to my stomach and extremely agitated.
The pharmacy said that when they called the monitoring board for permission to fill Gavin's new script because his bloodwork was less than two weeks old, it was denied.
The monitoring board informed the pharmacy that Gavin has to start over, with bloodwork done every week.
That was the limit of the information given to the pharmacy.
What the hell does this mean? Your guess is as good as mine.
Dr. Reynolds office has already been notified and are investigating.  What's not clear is the reasons behind this decision.
The pharmacist said that they may have seen something in the bloodwork.  It may also be that even though Gavin hasn't missed a dose, there was more than 14 days between blood draws..
Gavin has had plenty of meds but there may have been a time where we went longer than 14 days between blood draws because something came up at the last minute.  You can't really go early for the bloodwork because it's a timed thing.  You have to go the day of or the day before it's due to be refilled. There really isn't a margine for error..
I didn't know that was a potential problem because he never ran out of meds..but again, there was a major overhaul in the process recently and I'm not in the loop on all the new rules.
At this point, we have no idea if they want him to just revert back to one weeks worth of pills at a time or if they want him to completely start over….
If he's forced to start over, I don't think he will safely be able to do so… Dr. Reynolds said that if something happens again, he will not be able to safely start over.
This is potentially a very, very serious problem and I won't know anything until at least tomorrow.
Gavin is going for bloodwork in the morning because the pharmacy will be able to get Gavin a weeks worth of pills until we resolve this..
We still have a few days worth of pills left, so there's a tiny buffer but I don't know what will happen if the board forces Gavin to start over…
Clarification is needed at this point.
It's still possible that it's a paperwork error because they did just have a major policy shift with the distribution of Clozapine and something may have gone wrong.
I have no idea what happened here and until I have a better understanding of what triggered this, it's all just conjecture and speculation.
Either way, I'm sick to my stomach and it's safe to say that my stress level has gone through the roof…
Thoughts and prayers would be greatly appreciated..
This site is managed almost exclusively from my Samsung Galaxy Note 5. Please forgive any typos as auto-correct HATES me. 😉
Please remember to visit my Sponsors, Like, Tweet and Share my posts on your favorite social media outlets.
I can't do this without your help. So, if you like what I'm doing, PLEASE consider supporting my efforts. Click here to find ways you can help for FREE.