We just arrived home and everyone is settling in for a quiet evening, before heading off to bed.
When I took Elliott in, I was fairly sure his cough was caused by post nasal drainage, maybe croup. Drainage always triggers his coughing reflex, which inevitably leads to him puking.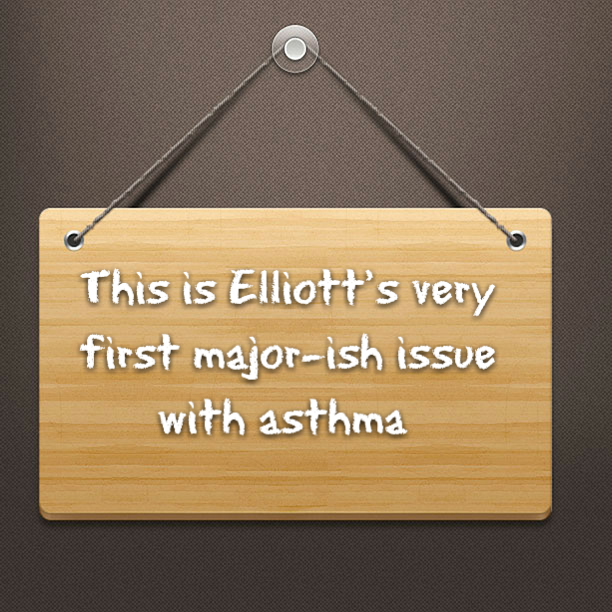 I'd say, 95% of the time, that's what is behind him having a cough. Toss in the occasional upper respiratory thing but that's about it.
This time however, things are a little different.
I guess the easiest way to describe this would be to say that this is Elliott's version of an asthma attack. That's maybe not the most accurate description but it'll make the most sense to people.
Elliott has a cold and along with the cold is sinus drainage.
Apparently, that drainage is what's triggering this nasty cough but unlike the other 95% of the time, he's actually weezing (which isn't audible to the naked ear) and he's having bronchial spasms. This asthma attack is being caused by the cold.
At the end of the day, it's not anything super major but since he's been diagnosed with asthma, this is the most serious it's gotten.. Does that make sense?
He's fine but he can't go to school tomorrow.
Hello five day weekend… 😔
Anyway, he's starting a prednisone cycle tonight and that's gonna be loads of fun cause he has a very sensitive stomach.. I made sure it wasn't on an empty stomach though.
I'll have to give him his emergency inhaler about every 3 – 4 hours and keep up with the benadryl to help dry him out.
He can't go to school tomorrow but it's likely to be a snow day anyway, so whatever.
Aside from the bad cough, he feels fine. That makes it tough to get him to rest, which the doctor told him he must do.
Anyway, that about sums it up. I have to shoot a message off to his Mom about this and then get the boys off to bed.
Wish me luck….and Elliott a speedy recovery..
This site is managed almost exclusively from my Samsung Galaxy Note 5. Please forgive any typos as auto-correct HATES me. 😉
Please remember to visit my Sponsors, Like, Tweet and Share my posts on your favorite social media outlets.
I can't do this without your help. So, if you like what I'm doing, PLEASE consider supporting my efforts. Click here to find ways you can help for FREE.