This is a sorta part two post of updates.  Part one pertained to SSI and this will focus on a couple of medication related things.
Some may already be aware that I started a new medication for anxiety and depression.  I've been on Paxil for a few years but needed more help with anxiety.  My doctor put me on Wellbutrine but after a few weeks, I noticed that it was causing an increase in heart rate and I wasn't comfortable continuing forward on it.
As a result of the Wellbutrine being discontinued, my doctor put me on something called Buspirone.  This is very much focused on anxiety, which is what I need.

Having only been on it a short while, it's really too early to make any definitive assertions but I feel pretty good.  My heart rate has slowed down and I'm not feeling so overwhelming anxious about everything.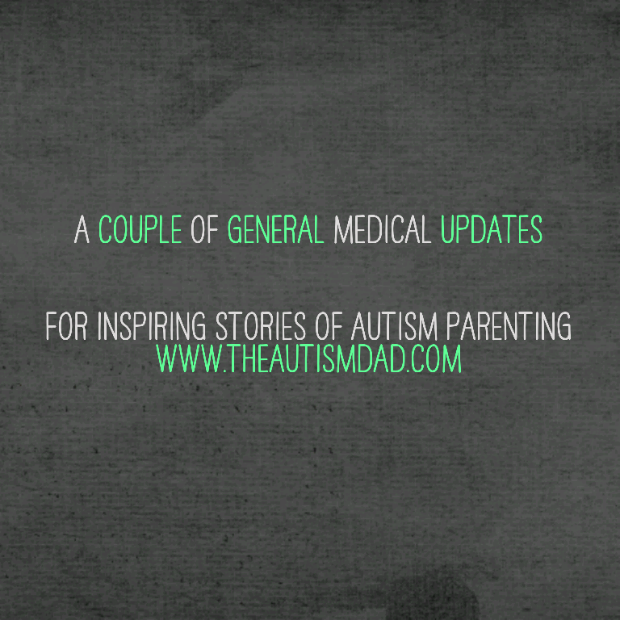 This is a positive thing and I'm hoping that it continues as I move forward.
The final update tonight is in regards to Gavin's Sodium Chloride tablets.  I went to pick up his refill today and they were out of stock.  This means that Gavin's gone an entire day without his salt tablets.
Gavin takes these to force his body to retain water and bolster the volume of fluids in his circulatory system.  This is in regards to his autonomic dysfunction and aides in limiting his risks of a crisis.
I can pick them up at lunch time today and as frustrating as it is for them to be out of stock of something so basic, it's not a huge deal.  All I've had to do is increase his salt intake at home.  Things like salty chips or pretzels help to accomplish the very same goal as the tablets.
There really isn't a way to avoid this in the future but what I'll do is maybe try and get the OTC equivalent and keep it as a back up..  Gavin's doing fine and rather enjoyed the manual ingestion of salty foods this weekend..  ☺
This site is managed almost exclusively from my Samsung Galaxy Note 5. Please forgive any typos as auto-correct HATES me. 😉
Please remember to visit my Sponsors, Like, Tweet and Share my posts on your favorite social media outlets.
I can't do this without your help. So, if you like what I'm doing, PLEASE consider supporting my efforts. Click here to find ways you can help for FREE.