I was so distracted by the events of yesterday that I failed to share how the actual appointment went for both Elliott and Gavin.
The good news is that both boys are doing really well.
Elliott was there for a food allergy and asthma follow up. His asthma is very much under control and he did quite well in his peak flow testing. There's not really much to be done with his food allergy because we avoid almonds all together and so there really isn't any point in blood work.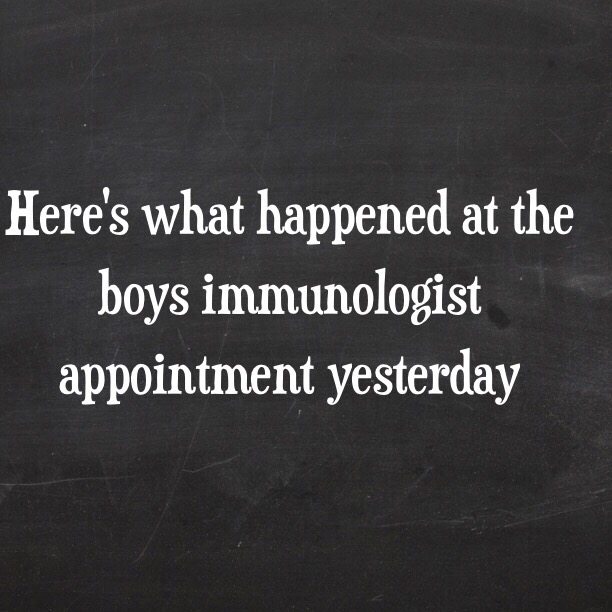 Elliott was so anxious that our Doctor simply said that when he's ready to find out if he's still allergic to almonds, we can do blood work. Until that time, we just stay the course.
She's very good with the boys and I fully support this approach because it gives Elliott some control over his life. We're so used to avoiding his allergen that we can put this in Elliott's hands. We still have the epi-pens in case of an emergency. There's just no rush to see if it's still a problem.
The only thing noted during his exam was his elevated heart rate..
We figure this to be the result of his anxiety but even after the appointment when he had completely relaxed, his heart rate was still in the high 120's…
This isn't a crisis but something that I will monitor from home and follow up with his pediatrician if I see this continuing.
As for Gavin, he did really well also.
His asthma isn't as well managed by his medication as Elliott's is but he's still doing awesome.
As far as his immunodeficiency is concerned, we won't know the status on that until his blood work is done later on today. I wouldn't be surprised if his immune system is continuing to get worse because that's been the trend. Depending on what the results of his blood work show, he might need to increase his dose or maybe add a third weekly infusion to the schedule.
Is this inconvenient? Yes…
Is it uncomfortable for Gavin? Absolutely.
Is this the worst thing that could possibly happen? No by a long shot…
Overall, this was a very positive visit with this particular specialist. I know she sometimes reads this blog and so I will once again thank her and her staff for being as patient and compassionate with my kids as they have been. 😀❤️👍