I mentioned last night that there was a potential change to the boys overnight visitation with their Mom. 
I also said it wasn't really significant and that I didn't really have a problem with it myself. 
The issue was pushback from the kids, namely Elliott.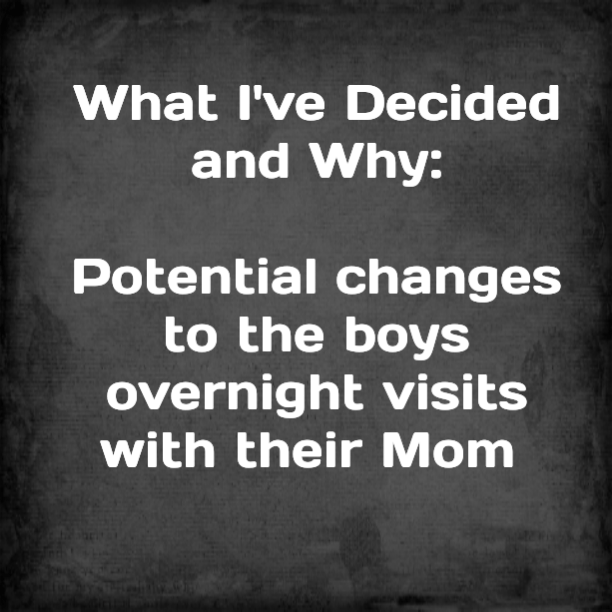 The change was pretty simple.  Due to a change of work schedule with the boys Grandmother (who's supervisor during the visits), the boys Mother wants to pick the kids up from school on the day they are to spend the night.
Essentially this would just give them a couple extra hours to visit and that's not a bad thing, especially considering how little she sees them. 
Elliott isn't necessarily upset about the extra time, he doesn't want her to pick him up at school.
When Dr. Pattie and I discussed this with him last night, he was very adamant that he did not want this to happen. 
He would only say that he's not comfortable with it and wants things to stay the same.
I made sure he knew that I wouldn't be upset if his Mom and Grandma (again, I love his Grandparents and am so grateful for all they've sacrificed over the past year) picked him up instead of me.  I was concerned maybe he thought I would be upset with him or about the situation. 
That wasn't the problem..  He simply doesn't want those two worlds to have any crossover. 
The question is, do I allow this to take place, even though Elliott would be upset? Here's what I've decided and why. 
Elliott never wanted to see his Mom after everything that happened.  He hated the visits and yet I made sure he went.  Visits are a big deal and if I let him run away from what's upsetting him, that would set a dangerous precedent.
He's finally come around and can handle the visits much better.  They're not perfect and he's almost always upset about something that happened or wants to come home early but he adjusting.  The boys therapist is heavily involved with these decisions because I want someone involved who's only concern is for the kids. 
While my only concern is for the boys and both mine and the therapists thoughts and opinions on what to do line up 99.99% of the time, I'm still hurt.  I just want a second opinion to make sure that I'm doing the right thing and for the right reasons. 
I hope that makes sense…
When it comes to this particular change involving picking the boys up from school, I've decided not to allow this to happen and here's why. 
Elliott is failing almost everything at school this quarter.
He's so far beyond stressed out and anxious that he's not functioning.  On a good day, he's very, very OCD and very, very anxious.  This was the case long before his Mom left. 
The difference was that he was able to keep his head above water. 
What would end up happening, if I forced this on him, would be that all day the Friday of, he would be focused on something he didn't want to happen.  He would be a mess and I'm not willing to put him through that for something that's absolutely not necessary. 
I will pick up the boys as usual and their Mom and Grandma will pick them up after they arrive home from school. 
They would have to stop by the house anyway to pick up Gavin and the boy's things for the overnight stay. 
This makes more sense and maintains the school as neutral ground for the kids. 
She's always welcomed to attend school functions, conferences, IEP meetings etc, should she decide to be involved with their education on any level. 
This isn't about blocking her access to school related things, it's about preserving a buffer for Elliott and doing my best to ensure his wellbeing. 
Like I said, it doesn't make a difference either way because they still get picked up early and still get the same amount of extra time together. 
This way Elliott is more comfortable and there isn't anything making the already muddy water any muddier.  It also won't set him up for a bad visit off the get-go.
A great deal of damage has been done over the last year or so and I've already gone as far as I physically can to promote healing between the boys and their Mother.  Its outside of my control and I simply won't put them through anything unnecessary and this isn't necessary.
There's been some healing but the boys have been traumatized by her actions and frankly, actions lack there of. 
It's a truly shitty position for me to be in because I only want there to be a happy, healthy relationship between the boys and their Mother.  I feel that's very important.
I also very much dislike that doing what's best for the boys doesn't line up with what she wants to happen. I suppose there's always consequences for our decisions but it just sucks that everyone has to suffer those consequences when we didn't ask for any of this. 
This site is managed almost exclusively from my Samsung Galaxy Note 5. Please forgive any typos as auto-correct HATES me. 😉
Please remember to visit my Sponsors, Like, Tweet and Share my posts on your favorite social media outlets.
I can't do this without your help. So, if you like what I'm doing, PLEASE consider supporting my efforts. Click here to find ways you can help for FREE.