The meeting has come and gone. It was one of those meetings where I went into it with a certain attitude and walked out of it with a different one.
It was Dr. Pattie, the boy's Mom (via phone), IEP Coordinator, both teachers and myself at the meeting this afternoon.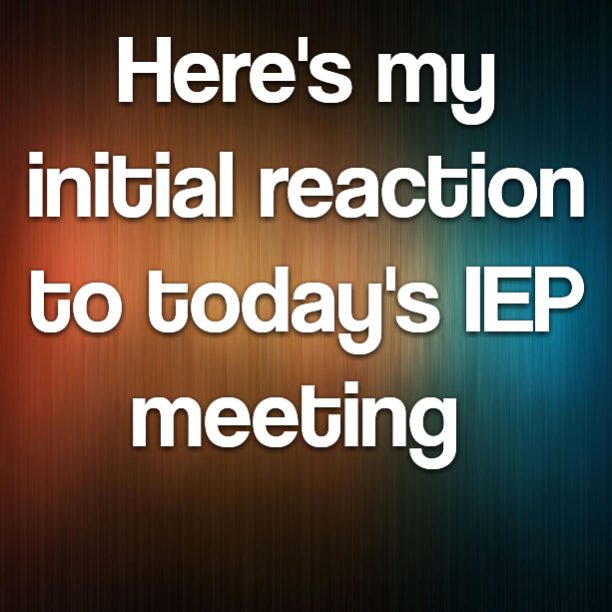 The long and short of things is that Elliott's actually doing really well in school academically. The interm report was sent and was reflecting issues as a result of him being sick for a week..
As it turns out, he doing middle to late 5th grade work in some areas, in order to continue challenging him. His Math and Reading scores are off the charts.
If that's the case, which it turns out it is, why is Elliott struggling so much at home when it comes to homework?
It's sorta my fault. Well, not really my fault but more the fact that I have so much invested emotionally.
I've never doubted that Elliott was capable of doing the homework. What I was seeing as anxiety surrounding homework was more Elliott pushing back against having his time controlled by someone other than him.
Dr. Pattie says it's avoidance.
She also thinks that he's manipulating me. When I expressed some level a disagreement, she explained that he gets to the point where he's not thinking rationally and cycle just perpetuates.
While I'm not saying she's wrong because I happen to agree with much of what she thinks but it's hard for me to not react emotionally when he's so distressed.
The problem is that there is so much going on with him and it's all squished together into a giant ball of struggle. It's not always easy to know what is what, especially when he's not the only one having problems.
I've done some serious soul searching here and I have to own the fact that I'm overcompensating.
The boys have gone through so much over the last year or so and there wasn't anything I could do to protect them from it.
Elliott specifically, is so profoundly impacted by his Mom leaving. I was working overtime to provide him with relief from his heartache and distress. I was overcompensating and while it's coming from a place of love, it's not always the best thing to do..
There's also significant separation anxiety while he's at school, especially when I happen to stop into the school for something and he sees me. It takes the teachers an hour to settle him down.
This is pretty much where I'm going to cut off for now. I wanted to share my take away from this meeting. In the next post, I'll share what we're going to be doing to address these issues and why we're taking this particular approach.
I just needed to put this out there and start to process everything.
This site is managed almost exclusively from my Samsung Galaxy Note 5. Please forgive any typos as auto-correct HATES me. 😉
Please remember to visit my Sponsors, Like, Tweet and Share my posts on your favorite social media outlets.
I can't do this without your help. So, if you like what I'm doing, PLEASE consider supporting my efforts. Click here to find ways you can help for FREE.