I have found myself disappointed once again and I really shouldn't be because the best way to determine future behavior is to look at the past behavior.  Perhaps I'm just stupid or maybe keep holding out hope for something that is never going to happen.
With that being said, today was parent teacher conferences.
I made the appointment for Emmett only because I just had a meeting with Elliott's teachers within the last couple of weeks.  There wasn't really even a need to meet with Emmett's teachers because I talk to them every day.

The main reason that a conference was setup was so that both parents could be involved and gain more insight into our children's education.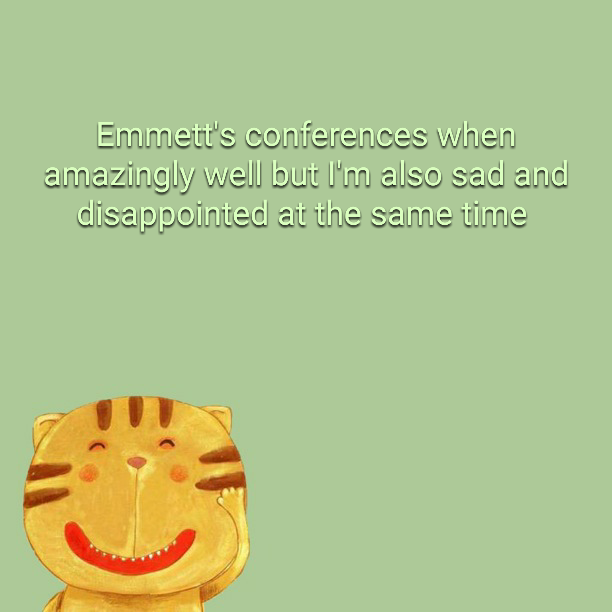 Everything was setup and everyone committed to being there.
I picked the boys up from school at 3pm and took them for an early dinner to both kill time and avoid going home, only to turn around and head back to the school for conferences at 4pm.
We got back to the school by 3:30 PM and there was a no-show before our time slot.  Emmett's teachers suggested we start early so I could get the boys home and so we didn't have to sit around for another 30 minutes.
I chose not to take them up on their offer and explained that not everyone was there yet.  It was important to me to make sure that everything went as planned because having both parents involved, only serves to benefit Emmett in the long run.
We waited and when 4:00 pm rolled around, I decided to get started because every knew what time to be there and other parents were waiting for their turn as well.
I figured it was traffic and that others could simply join in when they arrived.
The awesome news is that Emmett is doing so incredibly well at school.  He's either right where he needs to be or well ahead of where he should be at his age.
I brought Emmett into the conference at one point because he was frustrated with some things in math.  I wanted him to explain to his teacher because I still wasn't sure what that was about and I figured it was better coming from him.
He very pointedly told his teacher that Math is too easy and he would like to do something that's more challenging.
Thinking about it, that makes sense.
His teacher was awesome about it and said that when he comes back on Tuesday, they will start working on higher level Math but if he gets overwhelmed that he needs to make sure we know, so we can help him.
Emmett was happy and that makes me and his teacher happy.. ☺
Conferences lasted about 20 minutes or so and then we were on our way home to begin our 4 day weekend.
Unfortunately, not everyone saw fit to show up and I'm both frustrated and saddened at the same time.  We all knew when it was and when to be there. She said we would be there because she wanted to be more involved in our kids education. I thought it was a big step forward and while I was nervous about how it would go because it was the first time in at least 2 years, we would both be there, I was excited as well.
I want nothing more than to see this all work out for the boys.
The boys knew she was supposed to be there as well and now they know that she didn't show up……..again.
I was angry at first because a huge deal had been made about setting this meeting up and not by me. I see the teachers every single day, so conferences aren't usually necessary for me. This wasn't for my benefit but for hers and hopefully Emmett's as well.
I realized while I was on the way home that I'm really not angry at all.  I'm disappointed because it's just one more let down, in a long string of let downs.  It screams that something is wrong because the woman I married, would never do this and yet I'm powerless to do anything about it.  It's heartbreaking for me to see things continuing to go this way but I can't afford to give up.
It sucks that once again, the boys had to experience someone saying something and not following through.
In all fairness, I don't know if she said anything to them about being there. I said something to them so they wouldn't be surprised when she showed unexpectedly. I really thought this time was different but I was wrong.
Not showing up again, doesn't hurt me but it certainly makes working together and remaining on the same page, more challenging.
I know this kind of situation is not unique to me at all.  So many divorced or separated parents deal with one parents lack on involvement and it's not an easy thing.
Regardless, it's so important to remain focused on what really matters and that of course is the kids.  Everyone being there wasn't mission critical because nothing new was learned and school falls on my pile of responsibility anyway.  This just continues to prove that I'm in this alone.
It's okay to be upset or disappointed because when you're committed to raising the children you made together and the other parent isn't, it's only human to feel those things.
That being said, I still have to work together, at least to some degree and being angry serves no higher purpose.
I don't know how many more times I'm going to go out of my way to accommodate someone who commits to being somewhere and then doesn't show up.  Next time, I'll just set things up around my schedule. That way it's better for me and for the boys.
Just so we're on the same page, part of the reason I requested the conferences was because Emmett started talking about being frustrated with Math.  I figured it was best to address this directly and as soon as possible.  Secondly, it was important to her that we set these up and so I did.
If you understand the nature of borderline personalty disorder, you will also understand why her going by herself is a bad idea and why both of us being present is essential to ensuring that everyone is on the same page. It may sound controlling but very nature of BPD, dictates this as a necessity.  That's just the reality of the situation.
This isn't about bashing the boys Mother. If it was, this post would have gone a way different direction. I'm constantly being told that I'm too nice or too accommodating.  I've always been this way and the fact that we are no longer together, isn't going to change who I am.  At the same time, at some point I have to draw a line..
I share this because it's helpful for me to hear back from people and learn that this is something that they deal with as well. It's good to know you aren't alone.  I also was to try and provide as much context as possible because it helps to provide a better framework for understanding what life has become for the boys and I.
I wish things had worked out differently today but it didn't and what happened had a real impact..
Look, if you're going through something good similar, I want you to know that you aren't alone. Whether you're a single Mother or single Father, raising kids alone isn't easy.  Raising kids with Autism alone, takes that challenge to a whole new level.
Keep your chin and remain focused on what really matters, your kids.
This site is managed almost exclusively from my Samsung Galaxy Note 5. Please forgive any typos as auto-correct HATES me. 😉
Please remember to visit my Sponsors, Like, Tweet and Share my posts on your favorite social media outlets.
I can't do this without your help. So, if you like what I'm doing, PLEASE consider supporting my efforts. Click here to find ways you can help for FREE.