Everything that's been going on in my life, finally came to a head yesterday morning. I didn't get much sleep the night before and I was trying to finish getting the house ready for the security installation. My Mom had come over to help because she just that kind of person and I love her for it.. 💙
Emmett was home from school with a high fever, so I was already stressed out. Plus I was putting pressure on myself to get everything ready for this system to be installed because not only will that benefit my family but it will benefit the Autism community.
Anyway, everything came to a head and I had a pretty massive breakdown or anxiety attack.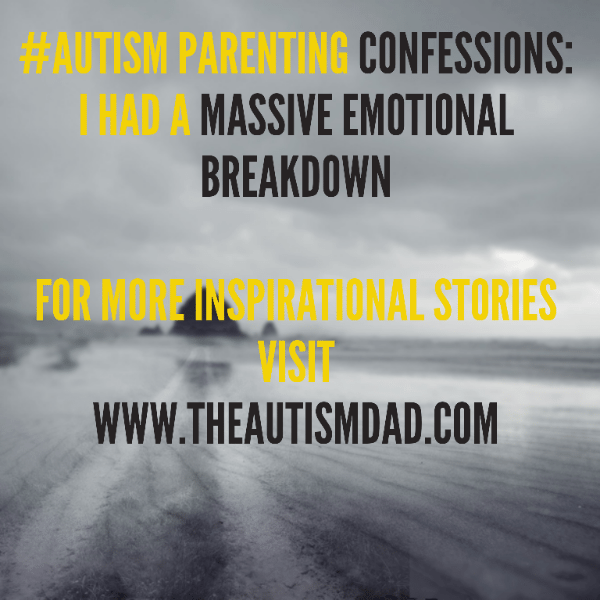 I started not feeling well and extremely on edge. My heart rate increased and I couldn't stop myself from shaking. I got sick to my stomach and ended up having to go hide in my bedroom, where I ended up sobbing.
The more I cried the less nauseated I felt and the more relief I gained.
I feel asleep for a really short time before everything started building back up again. Eventually I dragged myself back downstairs and asked my Mom for a hug. The emotional dam crumbled and I wept, which sorta freaked out the kids but there was nothing I could do at that point.
After a little while, I was able to begin regaining my composure and started to feel better. Gavin was the most impacted by this. He came up to me and gave me a huge hug. That just isn't something that he normally does.
I tried to explain to the boys that I was okay and that much like them, sometimes the world gets to be too much and this was sorta like a Daddy meltdown.
It took some time to recover but recover I did… I will say that being in that position was awful. I'm still paying the price for it today because I'm exhausted, overwhelmed and frustrated with my life.