This post focuses purely on the emotional aspect to this major milestone in my life. It's not meant to be depressing but instead to provide insight into what I've been experiencing for the last year on very visceral level.
____________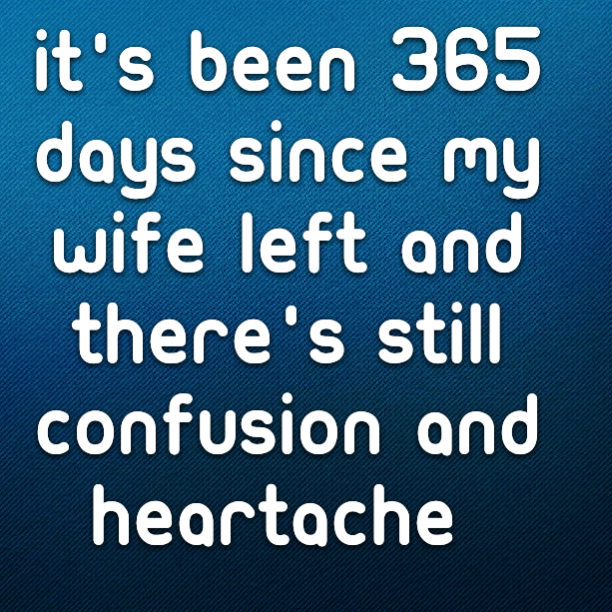 I've thought long and hard about the coming of this day. It's 365 days in the making and I'm not totally sure how I feel about it.

Today makes 365 days since my wife of 12 years walked away for a new life.
The worst day of my life occurred 365 days ago today. I'm sorta big on anniversary dates because they're milestones and this is an enormous milestone for me.
As I'm writing this post, I have my youngest sleeping next to me. He doesn't sleep by himself anymore and hasn't for the last 365 days.
I'm really nervous about today because I don't know how it's going to hit me, if at all. Luckily I'm going to be really busy and won't have much dead time to spend thinking.
Trying to explain what it feels like for my best friend of over 15 years and the mother on my children, to just walk away one day is difficult.
I'll just say that I don't use the words worst day of my life lightly.
I've spent the last 365 days trying to understand what happened because I was completely blindsided. While I don't discuss the details of what happened that night, it's not to protect her. I don't want the kids reading about this some day. If they ever need to know, I'll explain it to the best of my ability.
Going into the 365th day of my journey as a single parent is a big deal for me.
While I don't mind the boys seeing me emotional, I don't want them to become anxious or upset because they see me upset today.
I'm going to keep myself as busy as I can, in order to avoid dead time.
To be completely honest, my brain is scattered right now and my thoughts are equally jumbled as well. I think I'm going to end this post now because I can't even finish my thoughts.
As a parting note, I'm going into today with a positive attitude and I plan on doing my best to move past this.
Good night everyone. 🙂