The night ended with Emmett, Gavin and I playing in my Minecraft Realm together.
It was a nice way to cap things off.
I want to say thank you to Lizze and the boys for making me feel so special today and for making sure my life never gets boring. I love you all, more than I can express. ☺

Aside from all the cool things I did with my wife and kids, there were a few other things I should mention because I'm very grateful.
My parents knew how much I'd been craving Chipotle and got me a gift card so Lizze and I can go there a couple times without having to worry about anything. Didn't get to use it today but there's still the weekend. ☺
Thank you Mom, Dad and Grandpa.. ☺
Next I have to give a big shout out to T-Mobile.
I mentioned before that my original goal for my birthday was to upgrade to the Note 9. It was released on my birthday and I upgrade every year when it comes out because everything you read or see from me is done on my phone.
This year was different because the Note 9 is a bit more expensive than the Note 8 was last year and even with my spotless record, zero down, my jump and plenty of room on my T-Mobile line of credit, everyone has a down payment. I simply couldn't pull that off right now.
When T-Mobile heard about a service problem I was having, as well as the situation with the Note 9, they reached out to me to discuss what was going on.
The folks at T-Mobile worked for about a week on their end and made some magic happen for me. My Note 9 is backordered but should arrive sometime between now and the middle of September. I had given up on the Note 9, at least for the next few months but I don't have to now.
The service issue can't be fixed right now but I'm so grateful they were able to make the Note 9 a reality for me.
That would be amazing enough but they didn't stop there. I went in to Jump from my Gear S3 to the new Samsung Galaxy Watch. The idea was that I give them back my Gear S3, they wipe out its remaining balance and I simply move to the Galaxy Watch. The payments are the same and it's an even trade off.
That said, there was some an issue that arose that took them quite some time to figure out. It had to do with IMEI numbers not matching.
Anyway, normally I would have to pay the taxes on the watch upfront. I was prepared to do that because that was my birthday gift from Lizze and the boys. (the watch is pictured above)
For some reason, I ended up not having to pay anything at all up front. Not sure why that was and neither were they but they wished me a happy birthday and I was on my why to pick the kids up from school.
I can't say enough positive things about T-Mobile.
Last year when Gavin was having his wish granted, T-Mobile hooked us up with tons of of amazing stuff to help with our trip.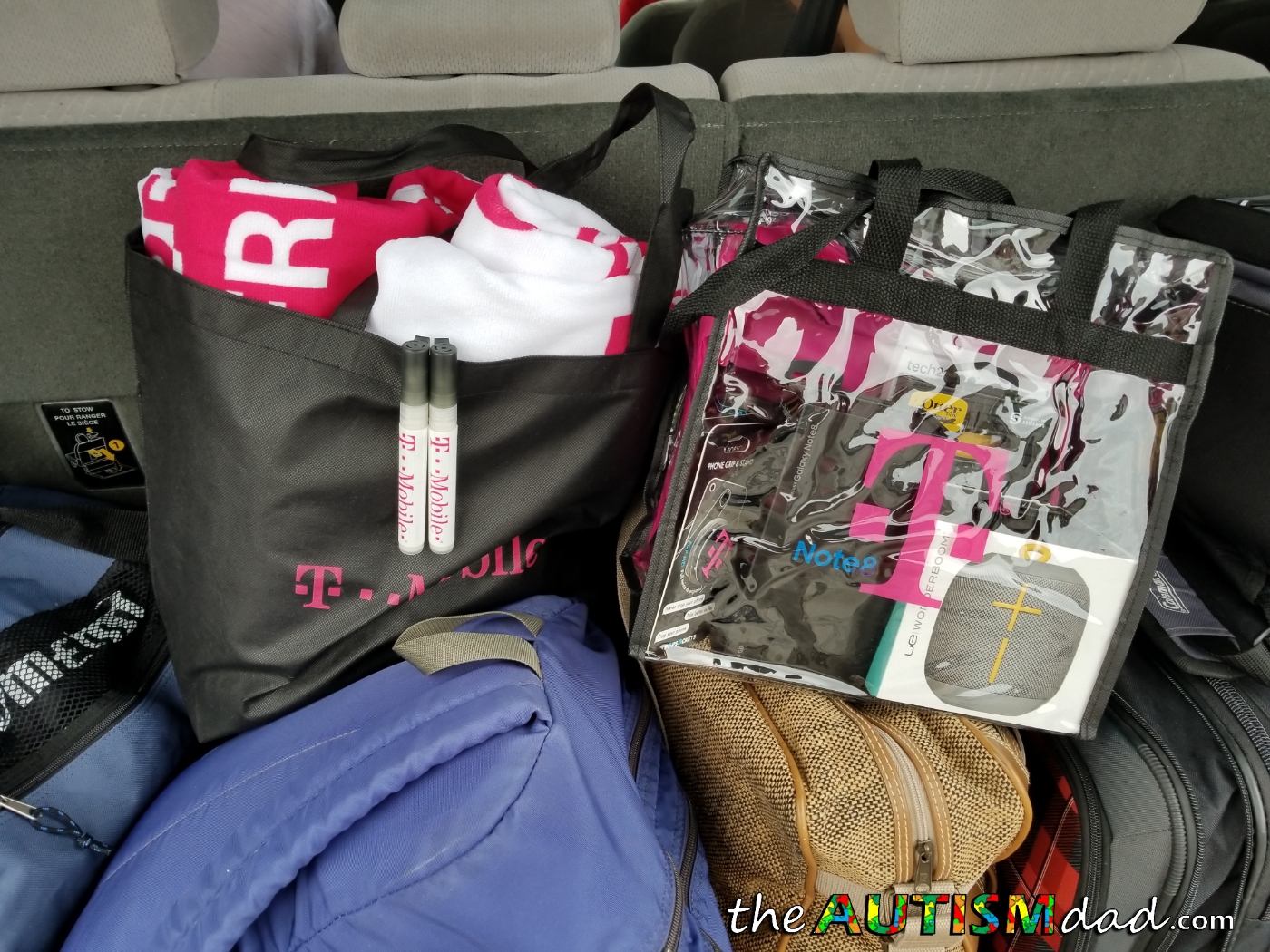 They did that on their own and it had nothing to do with Wishes Can Happen. It's one of the many reasons I stay with them..
Thank you T-Mobile, I truly appreciate everything you've done for me and my family. ☺
Last but certainly not least, I want to say a huge thank you to my readers and followers. I received hundreds of birthday wishes today and there's no way I can reply to all of them. Please know that it meant a great deal to me and I thank you from the bottom of my heart. ☺ 💙