We had a really nice Thanksgiving. We ended up cutting things a bit short because Lizze's migraine was making her sick. I think Elliott was overwhelmed on his own anyway. It was best that we made our exit when we did.
Everyone went to bed without much trouble and fell asleep as soon as their heads hit their pillows. I'm really grateful for that because more often than not, they don't sleep well after events like this. They're too amped up and overstimlated.
I'm finding myself in a weird place. My world has been recently turned upside down and I'm preoccupied with all the thoughts doing laps in my head. I know it's likely to get worse before it gets better and I'm doing my best not to let any of this bleed over into my parenting but it's not easy.

This is all fuel for my Depression and it's important that I stay on top of that. I've spoken with a therapist, I'm taking my meds and exercising almost every day. Unfortunately, things keep coming to light that destabilize me and it's sometimes difficult to stand on my own two feet. 😔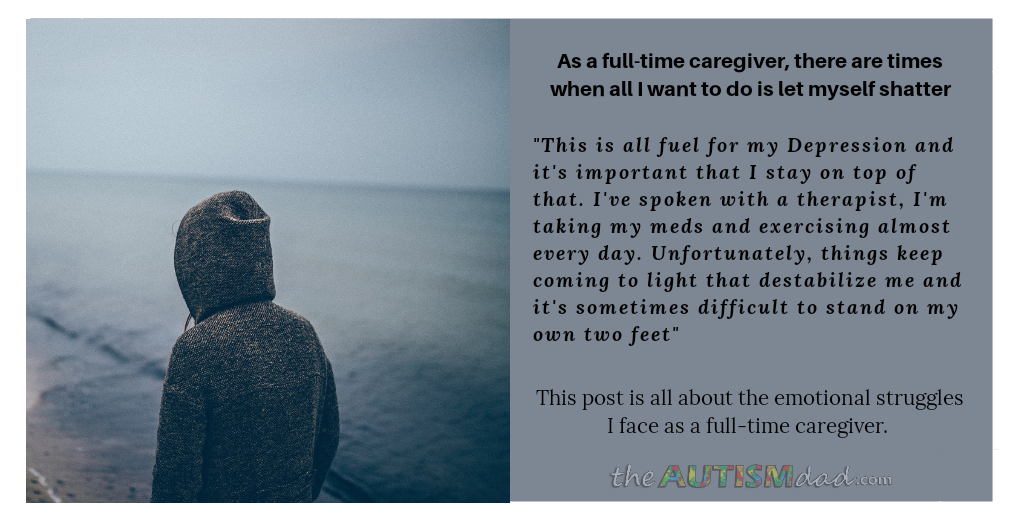 The really hard part is the timing. Lizze just lost her grandmother. She's still struggling with that and understandably so. That said, it doesn't leave a great deal of room for me to go through the things I need to go through. Perhaps it's for the best. I'm forced to keep moving and I'd rather be moving than stuck.
My life is hard but I love it. My family is challenging but I love them completely. Part of the hard is that everyone is going through so many things on their own, it's hard for me to have any moments of weakness myself. Keeping us all together and making forward progress is often like herding cats.
I sometimes feel like I need to fall apart, so maybe I can be put back together again, perhaps a bit stronger. Holding it together can be so totally exhausting and there are times when all I want to do is let myself shatter. It would sorta be like a reboot.
Anyone who's a full time caregiver can probably understand what I'm talking about and also get why I can never allow that to happen.
Anyway, I'm hoping to feel a bit better after a good night's sleep. We don't have to get up in the morning and the kids can get their own breakfast. I hate not getting up with them but I need to pull myself back together. Sleeping in might be a positive thing for me.