It was a very chaotic morning and I regret a great deal of it. We were trying to get everyone out the door and nothing was going right. The boys were being kids and I simply had no patience. Elliott is at that age where we aren't sure how much is Autism, anxiety and depression or how much is normal teens stuff. All I know is that I needed cooperation and he was not being super cooperative. He would dig his heels in and I just wasn't having it this morning.
Rather than continue to offer him patience and guidence, I yelled. I wasn't really yelling at him but rather at the situation and that was just as bad. I'm not talking simply raising my voice but actually yelling at the top of my lungs. I even cursed and that's absolutely unacceptable.
Yes, Elliott wasn't being cooperative but as the adult, I should have been better. I feel like absolute shit right now and it's been almost five hours.

I will say that I did catch myself and I took a minute to catch my breath. As I calmed myself, I began realizing how truly out of line I had been. I hold myself to a very high standard and so something like this really bothers me. It wasn't anything abusive. I never belittled him in any way whatsoever but I was not a positive example and I was not someone they could look up to or emulate.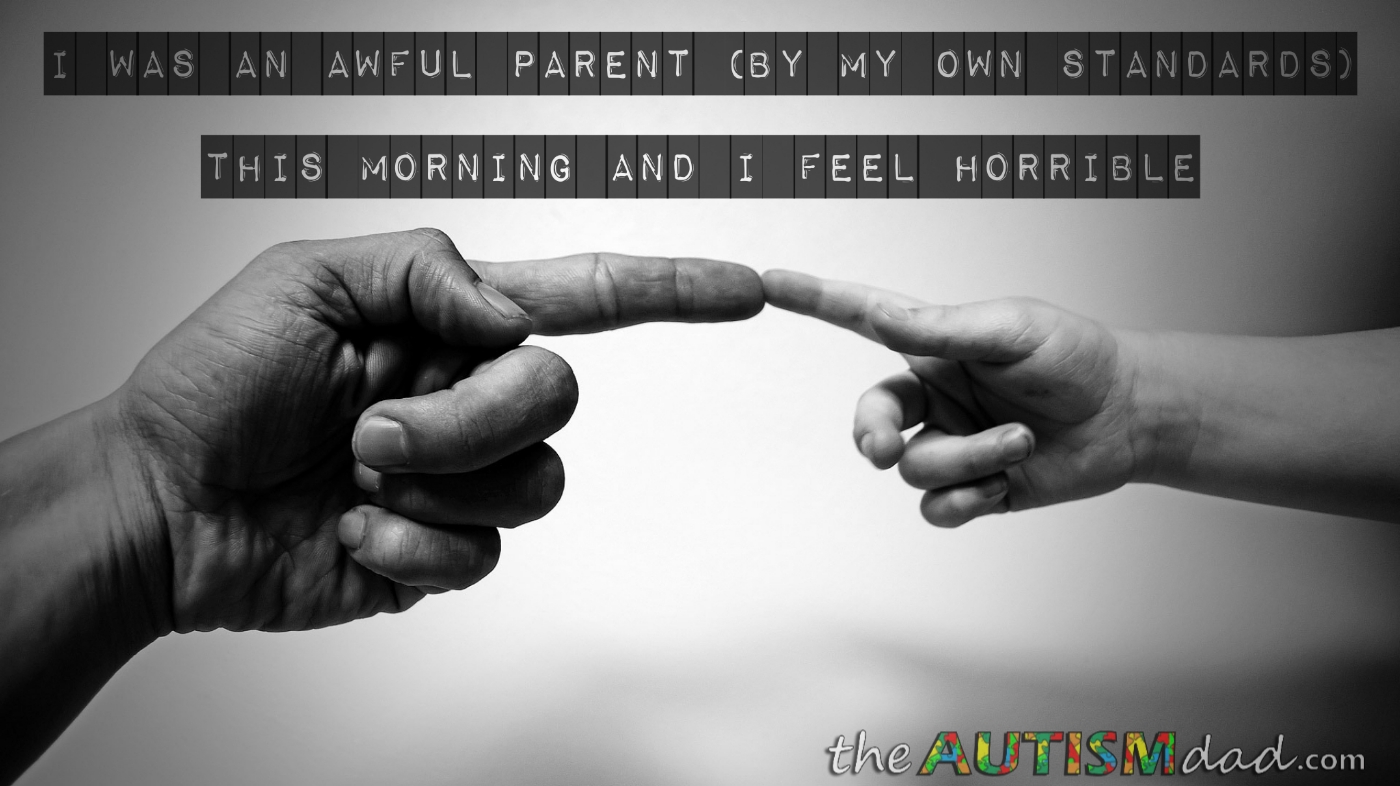 I spoke to the boys after I cooled off and explained that when I tell them to do something, it needs to be done. We were in a rush this morning and I was very stressed out. That being said, no matter frustrated, stressed out or upset I get, it's not okay for me to yell the way I did. It's not okay for me to curse or do anything like that. They deserve better and I need to be better. We all make mistakes and this was a mistake on my part. I promised I would do my very best to be better. I stressed how much I love them and how this wasn't really about anyone but me. I lost my cool and that's on me. I have to own that.
The boys got to school about twenty minutes late but everyone was late this morning because of the snowstorm that hit last night. I had to walk Emmett in because he was worried about his make-up work. I already know his teachers are cool about it because Emmett always does his work, his grades are near perfect and they adore him. Emmett holds himself to impossible standards and it creates so much anxiety. Walking him in makes a big difference and he feels better after we speak wit his teachers.
I had wanted to give Elliott one last hug because I love him so much and I felt so awful about the way the morning went but I didn't want to embarrass him. In that moment, I knew it was more about me than it was about him. If he had needed a hug, I would have done that but I just decided to live with my guilt and do better going forward.
When I got back home, I had time to grab a quick bowl of cereal and get Lizze to her appointment. We had to drop the boy's things off at my parents house on the way but we ultimately made it to the Cleveland Clinic with about ten minutes to spare. I feel like we're in pretty good shape because parking is only going to be about $40 or $50 for the week and I can handle that. We'll need to eat lunch but it is what it is and while we could propably pack something, it's much easier to just grab something from the Cafe in the building. Things are chaotic enough already and I need to make this as straightforward, easy and survivable as possible. I'm already overwhelmed and anything more than what's absolutely necessary is just not going to happen.
We have a very difficult week a head of us and it's only even possible because we are lucky enough to have such supportive family.
I'll let you know how Lizze is doing once she gets settled in and her infusion is underway.