Before I get into this weeks review, I want to say that I had intended this to be published before Father's Day, but unfortunately, life interfered with that timeline. Better late than never I suppose.
One of the things that drive my wife absolutely crazy is my wallet. For me, and a lot of other guys, a trusty old wallet is like a favorite beat-up ball cap. You don't just get a new one because it's been around the block a few times.
My wife and I have been together for almost 20 years. In all that time, I think I've only had two wallets.

As I said, a trusty wallet is something you don't just get rid of because it's old and falling apart. My wife, however, doesn't feel the same way. She's been trying for years to get me to replace my wallet, and I had no desire to do so because it still worked. My wallet and I have been through a lot together over the years, and it's never let me down.
Having said that, I reluctantly (at first) began using a new wallet a couple of months ago. Ekster sent me one of their wallets to review, and I had to use it to review it honestly.
Ekster is well known for its ultra-slim, trackable smart wallets, that allow for instant card access at the push of a button.
The particular wallet I received is called the Parliament.
The Parliament is a leather (mine is black) bi-fold smart wallet, and includes the following features:
The quick card access mechanism
RFID blocking technology
Premium leather
One year warranty
Compatible with the tracker card
The wallet itself is finely crafted, and it looks very nice. The leather is of high quality, and the stitching is solid. There is an elastic strap on the inside of the bifold that can secure cash (in small amounts) and opposite that are two additional card slots. It's important to note that this wallet is not for people who store tons of cards or need to carry large amounts of cash. This is a minimalist design, and it basically allows me to carry my about six of my most frequently used credit cards, my ID, insurance cards, and the tracking card. The tracking card fits nicely in the slot on the back of the wallet.
The coolest part, however, is the quick card access. Check out how it works.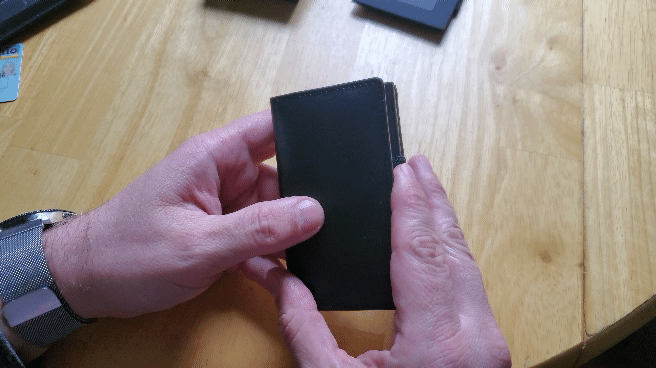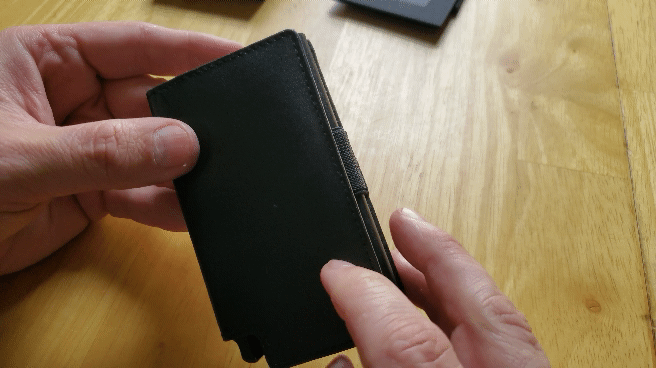 The quick card access supports up to six cards at a time and works incredibly well. I was able to fit four credit cards and my ID. I think it really depends on the thickness of the cards themselves.
I can't begin to tell you how many people have asked about this wallet while I'm out in public. They think it's the coolest thing they've seen they ever seen (there words, not mine) and I don't disagree.
The ability to press a button, have my five most used cards pop up, and be easily accessible is a pretty big deal. The physical mechanics work quite well, and I have never felt that the more I used it, the more likely it was to break. As I stated, the build quality is exceptional.
The other important thing to be aware of is the optional tracking card. It is optional, meaning the wallet still functions as a wallet without the tracking card, but it's necessary to for the wallet to be trackable. I would think that's obvious, but I figured I'd mention it anyway. 😉
The tracking card itself isn't much bigger than a credit card and is solar powered. A three-hour charge can last up to two months. I found it easiest to charge the tracking card while I was in the car. I'd take it out of the wallet and set it on the dash or center console to charge while I was driving. I've been using this for a couple of months and not ever run out of power.
You can track your missing wallet (assuming you have the tracking card in it via the free Chipolo app for Android and iOS. The Tracking Card offers the following features:
Wallet & phone ringing feature
Worldwide Lost & Found Network
3 hours of solar charge lasts two full months
Voice-activated using Siri, Alexa or Google
Also includes a one yearwarranty
I will say that using this wallet may require you to downsize a bit, depending on how much you're used to carrying around in your current wallet. I had to downsize myself, but honestly, I've needed to do that for a while now.
When I went through my old wallet, I couldn't believe how much outdated, useless junk I was carrying around.
I really, really like my Ekster Parliament, trackable smart wallet. It fits comfortably in my front pocket, and I can easily access my cards, instead of having to search through my entire wallet to find them. I always have what I need on hand. Honestly, I don't miss my old wallet at all, and I can't believe I'm saying that. Frankly, I don't know how I functioned so inefficiently for so long.
Pros:
well built
quality leather
quick card access is amazing
the optional tracking card is helpful, and battery life is outstanding
one year warranty
RFID shielded
Cons:
might be expensive for some
limited space for storage
can't carry large amounts of cash
the optional tracking card is small, but it does add some bulk to the wallet
quick card access seems to favor right-handed people
Ekster has a ton of different wallets available in many different colors. You can check them out by visiting their site at https://ekster.com/
The Parliament, as shown above, runs $79. The tracking card itself will cost you an extra $49, but if you purchase them together, the tracker card is only $29.
I've been dreading the day that I needed to replace my wallet and I can honestly say, that I could never go back. At this point Ekster has a customer for life.
If you purchase something from Ekster using any of the above links, I may receive a small commission.