Nothing about today went as planned. It was incredibly stressful and frustrating because it was just one thing after another.
Today was the day we were supposed to divide and conquer because Lizze needed to be at the Cleveland Clinic while Elliott needed to be at Akron Children's Hospital before we'd be back. We had worked things out and made arrangements for Lizze's mom to take Elliott to Akron while I drove Lizze to Cleveland.
Unfortunately, Lizze woke up very early this morning and was not feeling well at all. There was no way she'd be able to make the 90-minute drive to Cleveland. It just wasn't going to work.

She was able to reschedule, and while it threw things off a little bit, it did free me up to take Elliott to his appointment in Akron. I saw that a positive thing because I make it a point to be at all of the kid's appointments and always have. Lizze was feeling a little better around the lunch hour and so I was able to leave Gavin and Emmett home.
Elliott and I headed out a little bit after noon. I needed to stop for gas. I also wanted to check the tire pressure and top them off.
I ended up having to go to four different gas stations before I found a working compressor and by that time, I really needed to be on the road. I topped off the first three tires and when I came to the last one, I noticed a problem. The outside edge of the tire had split open and exposing the steel belt. I'm not a huge car guy, but I didn't feel comfortable driving on that tire after seeing it.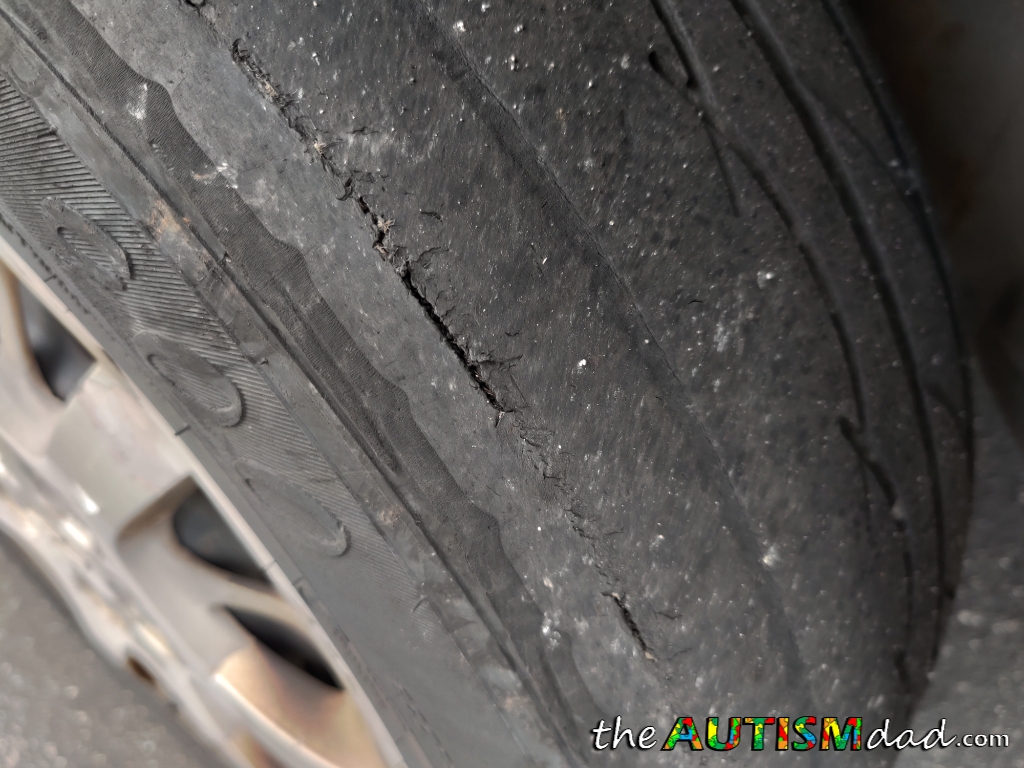 We headed straight home, and I got on the phone with Akron to let them know we would have to reschedule but ended up waiting on hold for over thirty minutes. When I finally got through, they were super cool about it and we simply rescheduled for a month out.
My concern with that, aside from the late notice, was that Elliott needed refills. Thankfully, they were able to call in the refills, and I even got a message from Elliott's psychiatric nurse practitioner. He said not to worry about it. I felt terrible about the last-minute cancellation, but as he said, life happens.
Once I got that squared away, I went on the hunt for a replacement tire. After about forty-five minutes of not having any luck, I found a place that had one used tire in stock. I immediately headed out and thankfully it was still available when I arrived.
The tire got switched out, but when I went to pay, it turns out they only accept cash. Of course, I didn't bring any cash with me. I ended up having to walk to a gas station down the road to find an ATM so I could pull cash out. I walked all the way back, paid the bill, and left for home.