Lizze is struggling with the medication changes as there are side effects to weaning off of them. I'm not referring to anything being addictive but instead very similar to what I experienced coming off of Paxil. It's pretty rough and it's causing insomnia, which makes everything worse for her.
Emmett's been dealing with a new tummy ache since yesterday and that usually means that he's upset about something. He struggles with expressive language and articulating how he feels, so it's a guessing game until we figure things out.
Elliott's moodiness and impulsivity are on full display. We're also learning that he's having some problems at school, both academically and behaviorally. It sounds like it's ADHD related and he's having a hard time sitting still. I haven't spoken with his teachers yet but I will next week. This is only now coming to our attention because Elliott informed me on the way home from school today that he's been getting in trouble. Again, he struggles with perception, so he could be misreading things or not understanding something. It's best that we explore this on Tuesday of next week when school resumes.
I'm exhausted from all of the above mentioned challenges, as well as trying to deal with an enormous section of tree blocking access to our yard.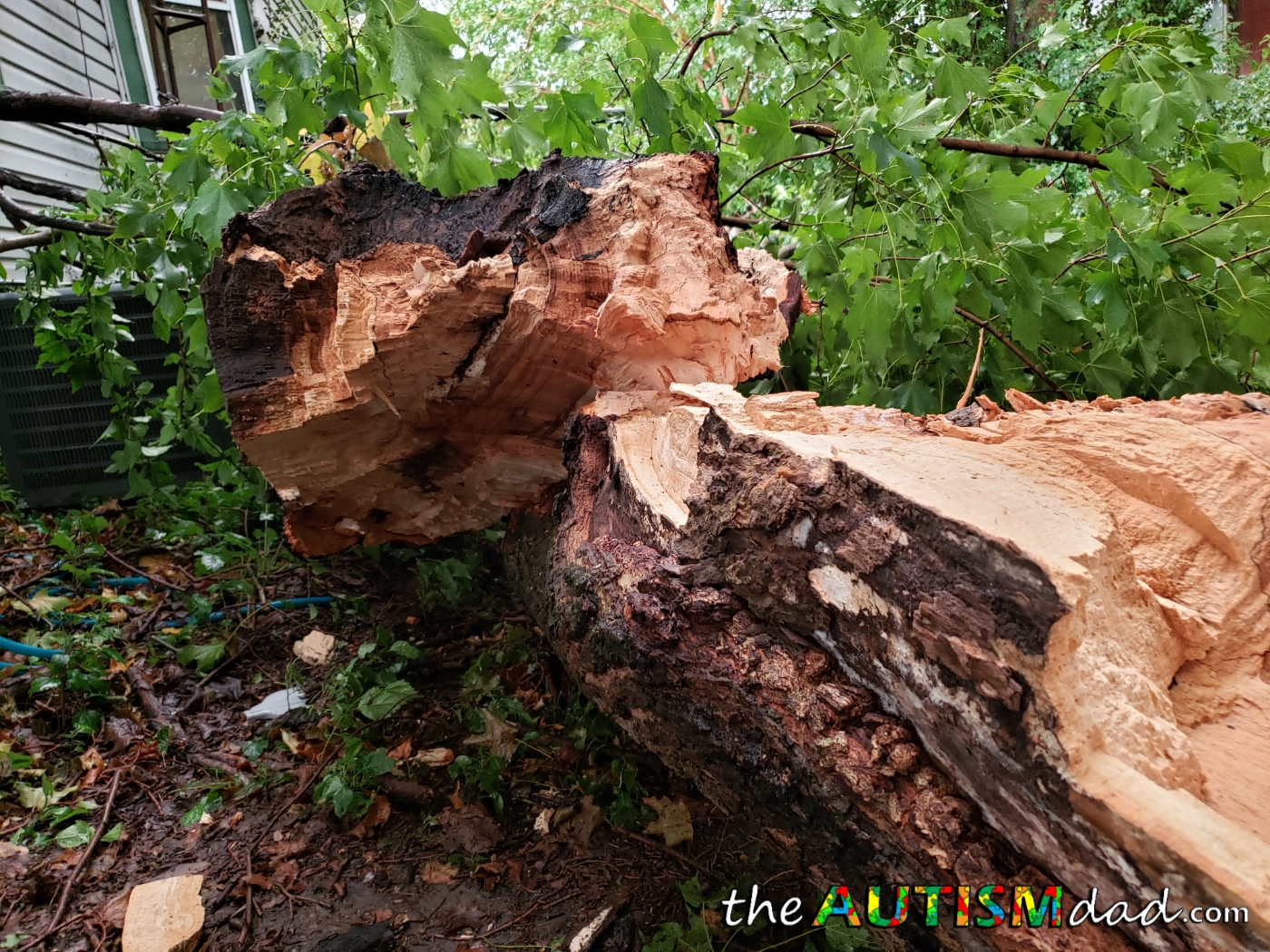 We can't get the damage to our house and garage fixed until middle to end of October because State Farm is so backed up.
It feels like everything is piling up and I can't get out from underneath it.
I'm trying to focus on writing more. Not only because it helps me cope and helps other people, but more traffic means more income and we desperately need the income. Traffic has been up this week as a result and that feels good to see positive numbers.
It's hard to explain how emotionally and physically exhausted I am. I'm still walking my 3 miles a day and will likely hit my goal of 80 miles this month. I haven't given up on that and I look forward to facing that challenge each day.
When I'm this tired, writing is harder for me. It's harder to think and the idea of sharing the things I want to share is overwhelming. There's so much to say but it requires more energy than I have to spare sometimes.
I'm trying to push through anyway and since my new phone arrived (big thanks to T-mobile for the hook-up), I should be able to begin publishing more to YouTube again.
It's currently 2:30 AM and I really need to get some sleep but my brain simply won't shut off. There's too many things to worry about and not enough of me to do much about them.
If I could get paid for worrying, I'd be set for life, as would most other Autism parents.