Personally, I began noticing a difference after the first week. I started on a Sunday and about eight days later, I began noticing a change. It wasn't Earth shattering but it was enough that I took notice. I knew it was helping because physically getting out of bed was easier.
For as long as I can remember, no matter what mattress I'm sleeping on, I wake up in the morning and roll out of bed because my back was so sore that I couldn't just sit up.
For the first time since August of 2001, I began waking up without back pain and I'm completely serious. I was actually able to sit up and get out of bed without the pain.

As more time went on, I began feeling less pain throughout the day as well.
I wear the Quell for most of the day but take it off to air my skin out or charge it. I let the mandatory app control my treatments for the day and truthfully, I forget I'm even wearing it. A single charge delivers roughly 30 treatment sessions and a full recharge takes about an hour.
I can't help but say that the Quell 2.0 is making a significant difference in my life. I don't know what else to say about it. It just works, at least for me.
People have asked me to describe what it feels like and if you've used a TENS Unit before, you've probably felt this before. It doesn't hurt and it almost feels like it's vibrating my leg at time. You can manually adjust the intensity and if you go too high, it can become very uncomfortable. If you use it correctly, you may not even feel it at all.
It's important to understand that using the Quell on an ongoing basis will require a monthly investment. You'll need to purchase electrodes. Each electrode lasts about 2 weeks, assuming you take care of it. A months supply will cost you roughly $30. That may seem like a lot and for many like myself, it could be cost prohibitive.
At the same time, $30/month is a small price to pay for chronic pain relief, especially without the use of drugs.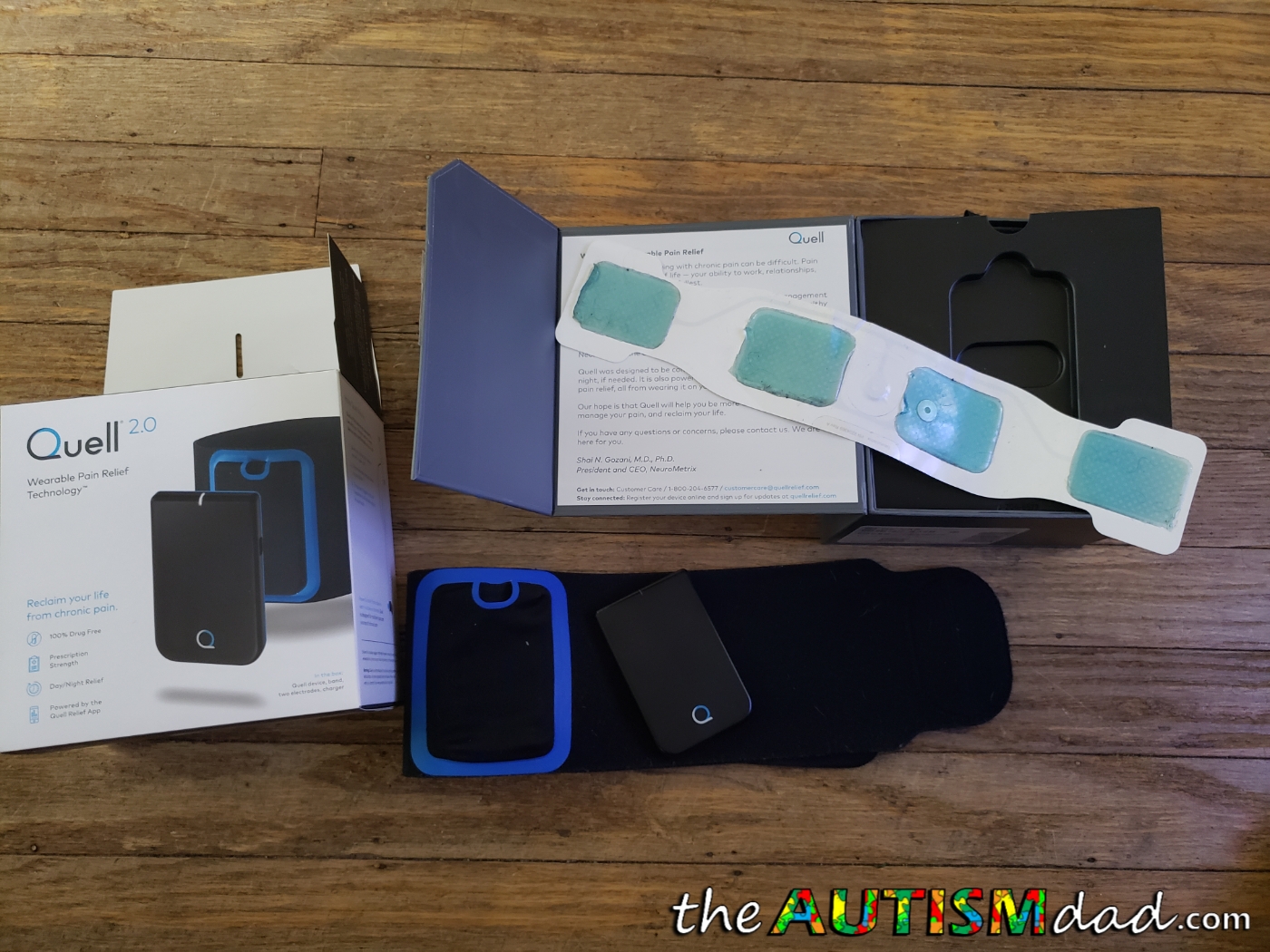 Some of you might be wondering why Lizze isn't using this. Originally, she was going to be the one testing this but she very quickly proved to be allergic to the sticky electrodes. That's something kinda unique to her. She's got very sensitive skin and the fact she can't wear these isn't much of a surprise.
I've not experienced any rash or breakouts under the electrodes and I imagine that's what most people will share that same experience.
My personal experience has been very positive. I wear my Quell 2.0 each day and it's made a significant difference in my life. It's really weird because until the pain was relieved, I hadn't realized how much pain I was still in. I was so used to the pain, it wasn't until it had begun to go away that I knew how much it was still impacting me.
If you live in chronic pain, I can honestly recommend Quell 2.0.. I can't say that everyone will experience the same relief as I did but Quell offers a 60 Day Money Back Guarantee and it's FSA/HSA eligible. At $299.99, it's not the cheapest thing in the world but when you live with chronic pain, the ride is worth the cost of admission.