Before we get started, I want to thank Jaybird/Logitech for sponsoring this review and in doing so, helping to support my Autism Awareness efforts. All opinions contained herein are my own.
As a veteran Autism and Special Needs parent of nearly twenty years, I'm a huge proponent of self-care. I have made the conscious decision in my life, to take better care of myself because I need to be here as long as possible for my kids. I encourage all my parents to do the same because being an Autism parent isn't easy and stress management is crucial for both physical and emotional health.
My big thing is walking. I love walking, and I go pretty much every single day, regardless of the weather.

I'm very particular about this process and have a few trusty pieces of tech that I never go walking without.
The first is my Galaxy Watch, as that tracks all my activity, heart rate, steps, and mileage. The second is my Biostrap. Third, on that list is my phone because I love listening to podcasts while I'm walking. Finally, a reliable pair of Bluetooth earbuds, so I can block everything out and focus on what I'm listening to.
In this review, I'm going to be talking about my experience using the Run XT's by Jaybird during my morning walks. I'm very picky when it comes to Bluetooth earbuds, and if they don't meet my standards, I won't use or recommend them.
My current go-to is the Jabra Elite Active 65T. I've been using them since last year and haven't switched long term to anything else. I've been using the Run XT's for a few days now, and I'm not sure I'll switch back to my Jabras.
Let's start with a good old fashioned description of the Jaybird Run XT's and go from there.
The Run XT's come in two color options. I received the black and yellow, but black and blue are also available. They are incredibly lightweight, as well as both sweat and waterproof (IPX7).
For those wondering, IPX7 means they are protected against heavy splashing and rain. Must not fail or show water seepage when exposed, but not when immersed. IPX-7 Waterproof Standard. Protected against short durations of water immersion. Max immersion for less than 30 minutes and at a depth of less than 1 meter.
In other words, sweat and rain won't cause you any problems. This is important because not all earbuds can withstand situations where they're exposed to sweat or rain.
The Run XT's are designed to be worn during workouts.
Each earbud has one button (not touch sensitive) on its face and can be somewhat customized via the Jaybird app. I found the buttons to be a bit awkward at first, but I did get used to them. The Run XT's also come with multiple ear tips so you can find your perfect fit. Of course, a convenient charging case is included as well.
As for my personal experience using the Jaybird Run XT's, I noticed a few things during use. Here are the highlights and I'll focus on a few of these things in a minute.
Pros:
Build quality is solid. They feel very durable.
Very comfortable. I mean insanely, forget you're even wearing them comfortable.
Sound for me was excellent.
I haven't experienced any drops or interruptions in audio due to connection issues.
Volume is more than adequate for my needs, and I could easily hear what was playing, even in noisier environments.
I made a few calls and call quality was excellent, and the other party had no complaints.
User-friendly app with tons of preset audio options.
The charging case is excellent, pill-shaped, well built and I like that it's spring loaded.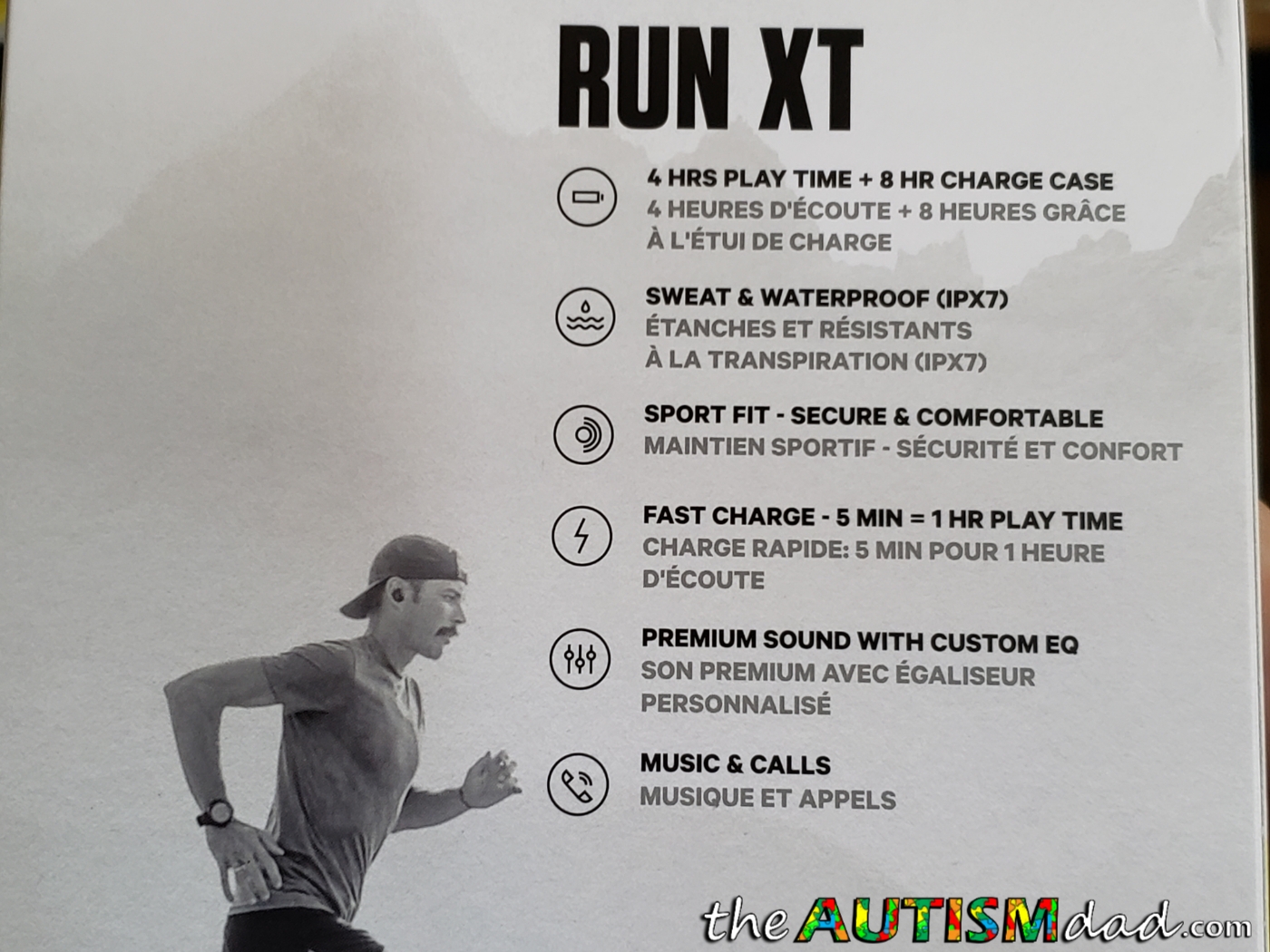 Cons:
No audio pass through or ambient noise transparency.
4-hour battery life is a bit less than other earbuds.
Buds turn on as soon as the case is opened. No ear sensors that turn them on or off automatically.
They are still built around Bluetooth 4.1 when many others are at 5.0.
Firmware updates require a computer.
When audio is paused and unpaused, it fades in (I'll explain more below)
In my opinion, some of these things are nitpicky, but others are more problematic or annoying. I'm a big fan of ambient noise transparency, a feature that allows me to listen to music and still hear what's going on around you. I've come to rely on this while out walking or hiking because it allows me to be more aware of my surroundings. It's also hugely beneficial when I'm listening to something at home. I'm able to listen for my kids while I'm catching up on Pod Save America. This worked amazingly well on the now discontinued Bragi Dash Pro's and is included in the Jabra Elite Active 65T's as well, but it's not nearly as well implemented.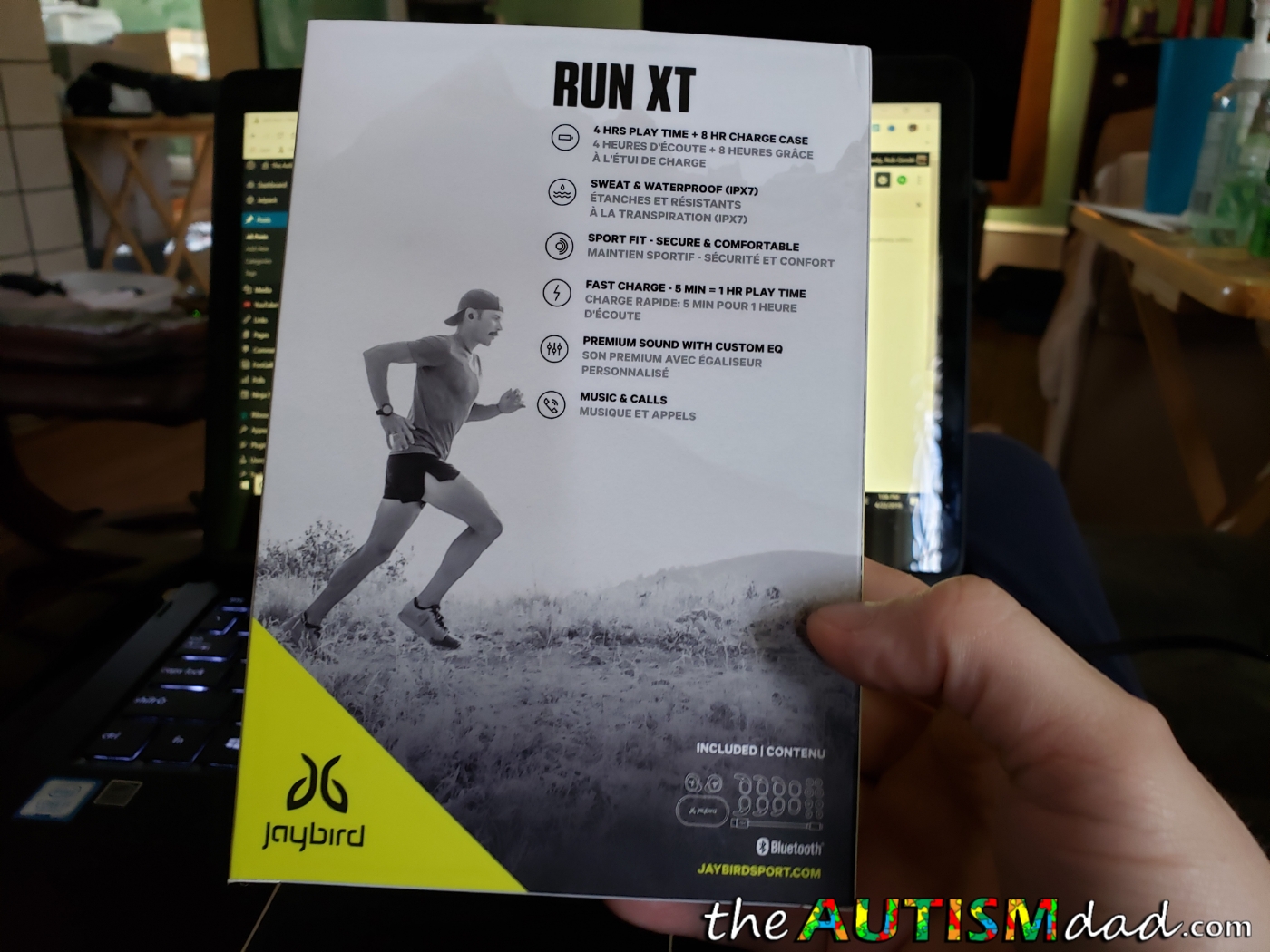 Since then ear tips I use don't create a seal that passively cancels ambient noise, it's not a dealbreaker for me. Would I prefer pass through? Of course I would, and it's somewhat of an annoyance that it's missing if anything but it's worth mentioning.
The only other minor annoyance is how the audio fades in when unpaused. Let me explain. When I'm walking, I typically listen to podcasts. The way I have things set up is when an alert hits my phone, whatever I'm listening to pauses briefly until the alerts are done doing their thing — basically, the audio pauses rather than ducking or lowering during an alert. The Run XT's don't pause and restart the audio immediately, they fade the audio in. This can be annoying because I tend to get frequent alerts and rather than deal with a tiny pause in audio during the notification, it takes longer to get back to what I'm listening to. I don't know if that makes sense. It's annoying when I get back to back to back alerts. The Jabra Elite Actives restart the audio without a fade in, so it's instant. As I said, it's an annoyance and some may find it problematic but I suspect it's there by design as a means of protecting the users hearing.
That said, it's easy to workaround by changing the audio settings in the app I'm using. Not a huge deal.
I like the Jaybird Run XT's. They're incredibly comfortable, they sound great, and I haven't experienced any audio drops that can commonly plague truly wireless earbuds. That's a big deal for me. I can't stand when you turn your head, and the audio cuts out, or an earbud disconnects because of my phone being in my pocket. The closest thing I can compare these to is the Bose Soundsport Free, truly wireless earbuds. It's tough to beat the Bose sound quality, but the design is similar. I always found the Bose to be too big and ultimately uncomfortable for me personally.
I've been using the Jabras since they came out last year and always ended up returning to them. That being said, I keep finding myself grabbing the Run XT's for my morning walks lately, even after I finished this review. I just find them more comfortable during extended use. I really don't even notice I'm wearing them.
Those who know me best, know that I'm very picky when it comes to technology because I know how it's supposed to work and often, things don't work the way they're supposed to. That said, I've been very pleased with my hands-on time with the Run XT's, and for $180.00, it's a pretty good deal. While they aren't the cheapest out there, they aren't the most expensive either. The very first pair of Bluetooth earbuds I ever had were Jaybirds. That was many, many years ago, and I can't remember what they were called, but Jaybird has never disappointed me. 😀