I'm a huge technology junkie and love using it to improve the quality of my family's life. Sometimes, however, something comes to my attention that I want to bring to my readers ASAP because I believe it can have a direct impact on their lives or the lives of their loved ones, and Jiobit GPS tracking is one of those things.
Why GPS Tracking Matters
Most of us are familiar with the many safety-related reasons why someone might want their kids to carry a GPS tracker. Sometimes it's making sure they get where they're supposed to go, and other times, it's just a safety precaution.
While everyone may have a different reason for wanting their child to have a GPS tracker, when it comes to Autism parenting, GPS tracking can literally mean the difference between life and death.

Why in the world do parents need a GPS tracker for their child with Autism? Simply put, roughly 50% of children with Autism will wander away from a place of safety. Autistic kids tend to gravitate towards bodies of water, as well as places like train tracks. The heartbreaking reality is that in far too many cases, these kids lose their lives as a result of drowning or severe injury. Wandering is a fear that is always present in the minds of Autism parents.
I've been talking about this for years. In fact, I was even part of a startup that designed and built a GPS tracker to address the needs of Autism parents. Unfortunately, that never panned out, and I've spent years looking for a product that I genuinely believe will save lives.
The idea behind using GPS trackers with Autistic kids is that in the event of wandering, the parent or caregiver can react immediately. Timing is critical when it comes to recovering a wandering child, and GPS can provide you with a real-time location so that you can intervene ASAP.
Jiobit GPS Tracker
A very tiny device, Jiobit is about the size of a key fob, but it's an incredibly powerful safety tool used to help protect kids and adults who wander.
Jiobit is well-built. It connects via cellular, Bluetooth, and or wifi. It's water and shockproof. This discreet little tracker is only charged about once a week and provides accurate, real-time locations across 150+ countries – even indoors. The device is modular in the sense that it includes attachments that snap firmly into place and allow for multiple means of attaching the tracker to your child.
As a purveyor of technology, I'm very picky regarding the build quality of the devices I use, and Jiobit does not disappoint.
Use Jiobit in conjunction with the Guardian Mobile App. I've had extensive hands-on time with the Android version of the app, and I really like it. It's very clean, easy to use, and stable.
Geofences
Using the app, you can create geofences. Geofences are invisible boundaries you can create on a map. When the Jiobit breaches the perimeter of a geofence, the parent or caregiver is notified. You can then track your child in real time.
Autistic kids are often drawn to bodies of water. Being able to create a geofence around a dangerous place and being notified if your child ever approaches it can literally be the difference between life and death.
Geofences can be created anywhere, including around your house, so if your child leaves the house and breaks the perimeter, you will know right away.
Jiobit also has a feature that allows you to create a mobile geofence. Let's say you're at the park or in another public place. When your child wears the Jiobit, they can be digitally tethered to your phone. If they break the predefined or allowed distance, you will be notified. This is important because kids can wander off, even if you turn your head for just a moment.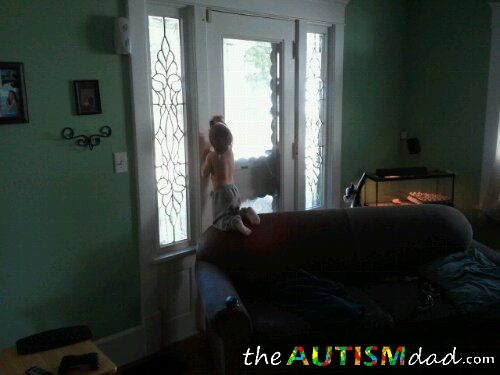 It's Not Bad Parenting
Kids with Autism who are determined to wander will find a way to wander no matter what you do. There's very little that can be done to prevent it. Just so we're clear, a child with Autism who wanders off is not necessarily a sign of bad parenting. Even the most alert and responsible parent can have a child wander off. It's just the way it is and one of the many reasons Autism parents live in constant fear.
The picture above was taken when Emmett, my youngest, was about three years old. He would slide the couch across the living room floor, climb it and reach the locks. He'd unlock the doors, push the couch back, and open the door.
I'm telling you, it's scary.
Being able to react immediately is invaluable and provides desperately needed peace of mind.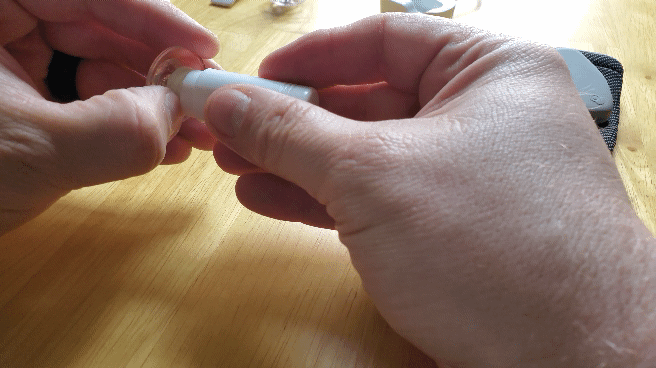 One of the significant challenges when trying to secure a tracker like Jiobit to a child with Autism is how to secure it in a sensory-friendly way while making it difficult for the child to remove. To address this problem, Jiobit created a unique pin that can safely secure the tracker to a child's clothing, and it can only be removed with a special magnetic tool. It's very cool and incredibly easy to use while ensuring that the tracker doesn't get removed without the parent knowing.
I sent my kids to school with it and found that pinning it inside of their pockets or on their waistband worked out well. They weren't bothered by it, and it wasn't noticeable to anyone else.
The Jiobit is an incredible piece of technology, but no matter how amazing it is or how good it works, if it's not affordable, it doesn't matter.
Get Jiobit Today
Jiobit requires a monthly subscription but options start as low as $3/month.
Jiobit is something that I believe will save lives. It's easy to use. The build quality is fantastic, and it works incredibly well. It's affordable and can be attached in multiple ways. Geofences, unlimited usage, real-time tracking, and a battery that lasts a week or more, make this a solid product.
I highly recommend that you give Jiobit a serious look if you have a child that is prone to wandering.
You can purchase your own by clicking the button below.
Disclaimer: I will receive credit if you purchase Jiobit through one of the above links. This is how I support my family and my efforts to make the world a better place. I only do this with products I have thoroughly tested and believe in.