So I'm feeling a little better as the night progresses. The boys are nowhere near ready for bed and sleep has become harder to come by than is was pre-pandemic. I'm trying to focus what little energy I have into positive things.
I've got 2 recordings that need mixed and at least one more scheduled for this coming week. If I can get the house sorta quiet, I'll record the rest of what needs to be recorded in order to start mixing them. It's a pleasant distraction for right now.
I also decided that we need a place outside, where we can be safely away from everyone else. I started cleaning off my balcony. It's what used to be a called a sleeper porch back in the day. It's not much but it's what I have right now. We could eat dinner out here or just sit and get some fresh air. I fixed the light that's been down for years and put in some hue lights to sync up with the rest of the house.

In the next few days, I may try to order some indoor/outdoor carpet and have it delivered. Right now it's an OSB floor and since my kids refuse to wear shoes, I need to make it safer.
I thought I could put a small table and some chairs out here and maybe Gavin could sit out here and write or type up his book. He's not comfortable being outside cause he's afraid of getting sick. This way no one can come near him.
This is giving me something to focus on and it feels like I'm doing something positive for my kids.
This still needs some work but I feel pretty good about it. I'm trying very hard to focus on things I have control over and improve what I can, where I can. It's not easy and sometimes I feel like it's impossible but it isn't. I just have to look harder.
On another positive note, Gavin took it upon himself to cut his own hair and this was the result..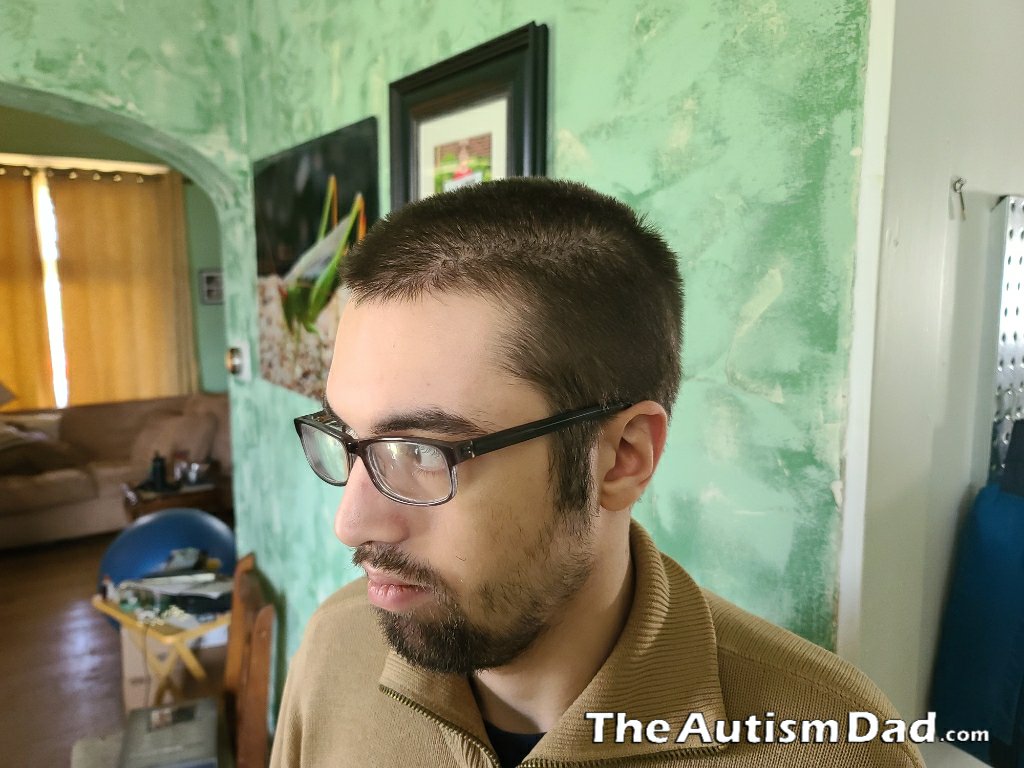 I'd say he did a fantastic job. I had to help him a little in the back but 99% of this was all him. How cool is that?
My anxiety is still high but I'm feeling a little better. I'm hoping to sleep tonight and I pray my kids do as well. We aren't going to really be celebrating Easter this year and that's okay. Noone feels like celebrating at the moment. Maybe we'll order some take out for delivery. I'm trying to order food for delivery once a week. It's helping to put back into the community and I feel good about that.
I hope you're all doing well tonight. Please stay safe. Stay healthy and for the love of God, stay home unless you have no other choice.