One of the other struggles we face with Gavin is that his life revolves around playing games on his tablet. He plays his tablet constantly and we've tried to limit it but when we do, he tends to fall deeper into the world of Schizophrenic hallucinations that try so hard to keep him on this side of.
Also, limiting ta let time for a kid with Autism isn't an easy task to begin with.
In other words, it's way more complicated than just taking his tablet away.

The other day, I was expressing concern to Gavin that I wish he would spend more time reading, writing or drawing. He used to do those things a lot more when he was younger and they were very healthy activities.
He must have actually heard what I said because the next day, he showed me this.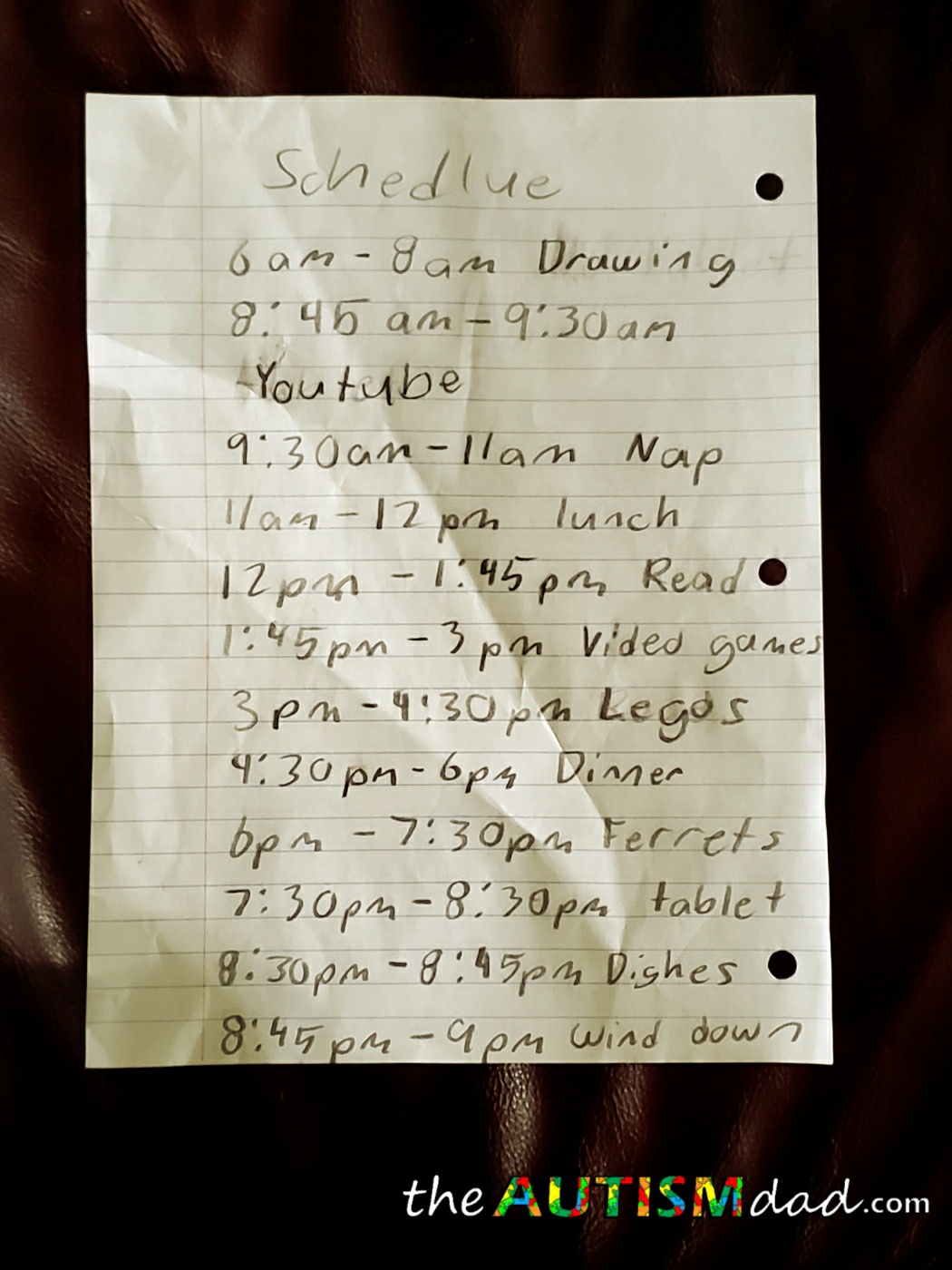 Yes, I understand that's he's eighteen. I understand that he has the paper backwards and he wrote this in jumbo pencil. I also noticed there's at least one chunk of time missing but none of that matters.
This is the first time Gavin has ever sat down and made himself a schedule.
We've used schedules in the past but stopped because he he became far to ridged with the times and it was a problem. That being said, we came up with those schedules for him.
I don't recall him ever doing something like this before. To be completely candid, I wasn't sure he even understood the concept of a schedule.
This is a very cool thing he's done.
I'm not entirely sure how closely he's following it but I do know that since he created this, he's been reading and even drawing pictures. I'll share the pictures is I can.
This is really an exciting thing for us to see come from Gavin. It may seem ridiculous to some that we are celebrating things like this but there are many more out there who will see this and appreciate it for what it is..
Awesome job Gavin… ☺ 💙