I'm big on education and knowledge. I'm the kind of person that likes to have as much information about something as possible because it helps me to better understand whatever it is I'm working on.
One of my goals with this site is to help the general public learn something about Autism that maybe they didn't know. My hope is that they can take that knowledge someday apply it to a moment in their life.
One of the most misunderstood things about Autism is the meltdown. People commonly conflate meltdowns with tantrums and it's really important to understand the difference. It's really easy to assume that a child experiencing a meltdown is misbehaving or needs to be disciplined. It's easy to think that this is a result of the child being spoiled, not getting their way or that bad parenting is involved.

The truth is that a meltdown is the result of overstimulation, meaning the child has become so overwhelmed by the information taken in by their senses, they literally overload. This is absolutely outside of their control. The act of melting down is essentially the body purging. By contrast, a tantrum is a willful act, meant to manipulate someone's behavior. A child has a tantrum when they don't get their way and will stop freaking out as soon as they get their way.
I put this image together a while ago in an attempt help people better understand the basics of what a meltdown is and what it isn't. Please share this post and help to spread some awareness. ☺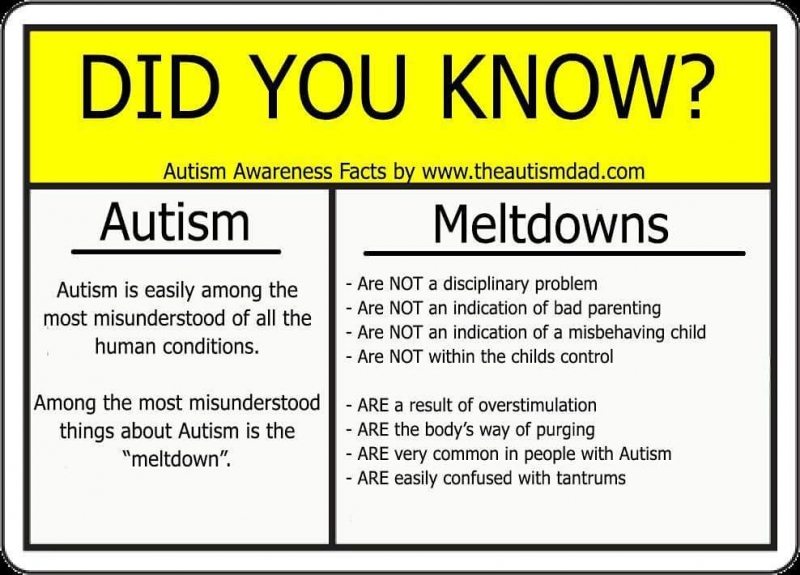 I also put a short video together explaining in more detail about the differences between a meltdown and a tantrum.
https://youtu.be/fsINiP4G-A8