My Grandmother just turned 94 on Wednesday, and she's not going to be with us much longer. We don't know how much time she has left, but she's rapidly declining. She's even gone downhill since her birthday. We've reached a point where Lizze and I needed to figure out how we were going to handle things with the kids.
All three of the kids have been spending a great deal of time with her since she's moved into town and has been living in the nursing home down the street. They've grown very close, and this is going to be very difficult for them.
Yesterday we reached a point where we wanted the kids to have a chance to say goodbye. It feels like we've reached a place where there may not be another opportunity. Hospice has begun, and some of her medications have been stopped. Everything is about making sure she's comfortable.

Elliott was not comfortable going, but Emmett and Gavin both wanted to say goodbye. We wanted to keep a close eye on Gavin because we weren't sure how he was going to react. Historically, Gavin doesn't seem to experience or at least display emotions, the way most others do. He says things that he shouldn't, not out of malice but rather social awkwardness, but that can still make a bad situation worse. We're just cautious with him.
He wanted to tell my Grandmother some things, and we told him to write down what he wanted to say. The idea was that if he read it, he would be more likely to stay on message.
I was already at the nursing home, so Lizze's parents were going to bring the boys so they could have some time with my Grandma.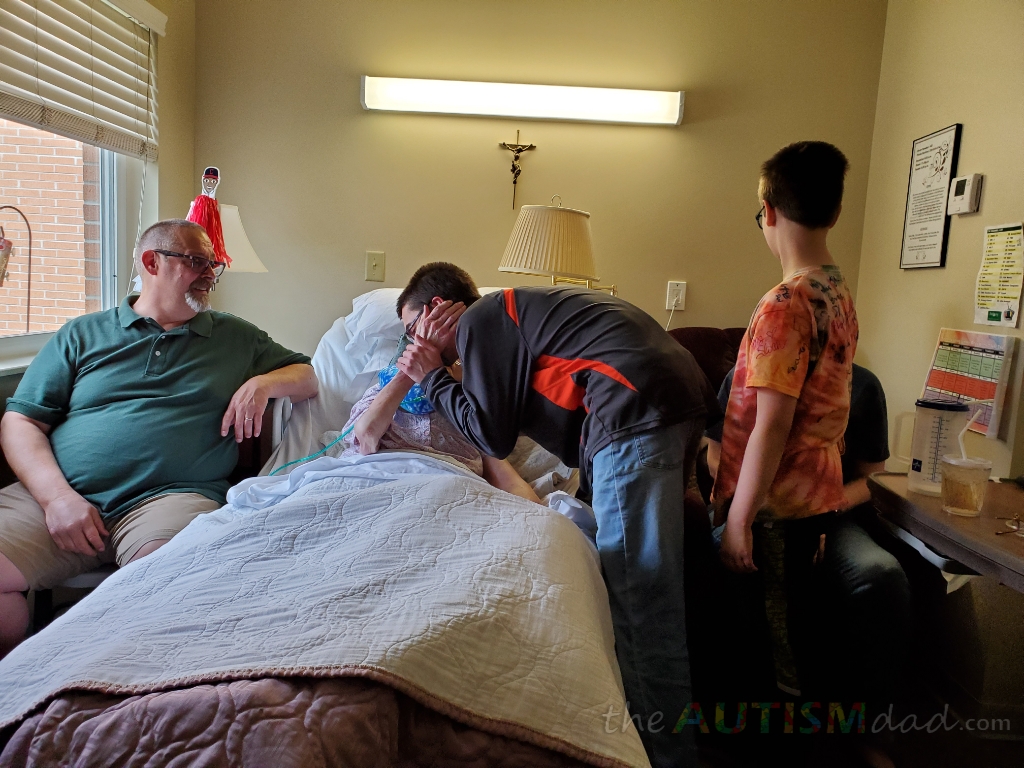 Elliott stayed in the car, and that's okay. Emmett and Gavin walked themselves to her room, and that's when the unexpected happened.
The mood in the room was pretty upbeat, and Grandma was only awake for short periods.
Emmett was unsure of what to do, but he approached her. She woke up and was so happy to see him. She reached out to hug him, and it was so sweet. Emmett is trying not to lose control, but you could see the tears in his eyes.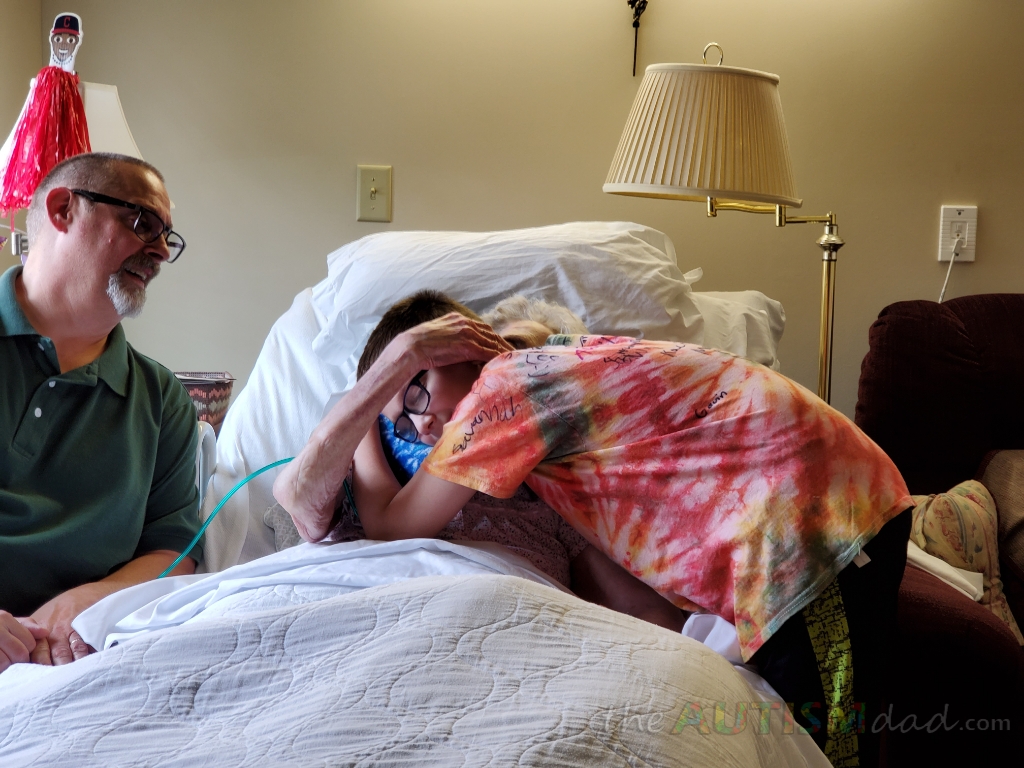 When Gavin had walked into the room, I asked him to let me read his letter. Lizze had warned me that I need to read and make sure it's okay.
I read the opening sentence and decided that it would not be a good idea. I don't have the letter on me, and when I get it, I'll share it in its entirety.
The letter began with, Grandma if this is the last time I see you……..
Just so I'm very clear, Gavin's word were sweet and well-intentioned. He didn't say anything wrong. The issue was that I don't know that we've openly spoken with my Grandma about her dying. Her memory is very poor right now, and it was deemed a bad idea at the time, for him to read the letter. We weren't sure how she would react.
Gavin approached my Grandma, and she gave him a big hug. It was a touching moment for everyone in the room.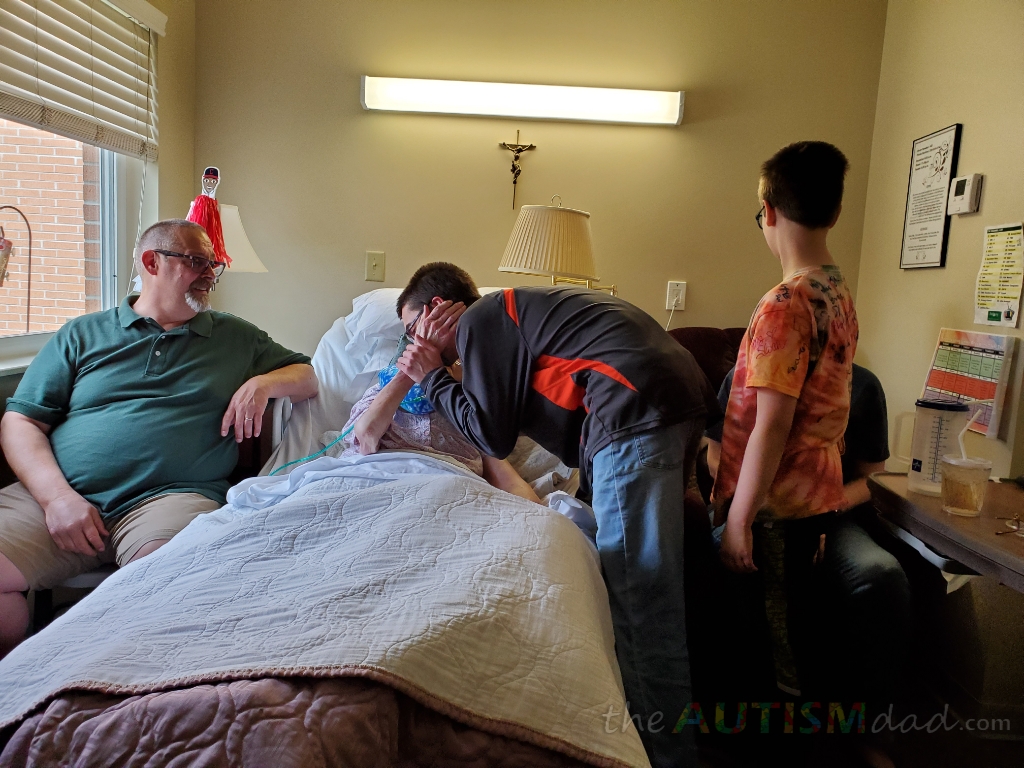 What happened next has never happened before. Gavin suddenly pulled away from my Grandma because he became overwhelmed by emotion. He excused himself from the room and went to the hallway and began sobbing. I'm talking about serious ugly crying.
In almost 20 years, I've never experienced him react like this. I didn't know what to do because I was utterly unprepared for his reaction.
I followed him out into the hall, and when it became clear that he needed to go, I suggested that we walk him back out to the car. He agreed, and it was hard just getting him out the door. He could barely walk at times, and it was heartbreaking. I got him to the car, and Lizze's parents took over comforting him, so I could get back to Emmett.
Emmett ended up doing okay, and I escorted him back to the car as well. All three of them were going to hang out with Lizze's parents cause I was with my Grandma, and Lizze was not feeling well.
Both Elliott and Emmett had a very difficult time sleeping last night. I was up with Emmett until after 4 AM. They were both completely overstimulated by everything and we knew that was going to be a problem.
Gavin slept like a baby, and that's a good thing because he was the one I was most concerned about.
At this moment in time, there is discussion about giving Gavin the opportunity to read his letter to my Grandma. I'll discuss that a bit later when we figure out what's going on.