Before we get started, I want to thank my friends at Jabra for enthusiastically supporting my efforts to raise Autism awareness and sponsoring this review. All opinions are my own.
One of the things that many Autistic kids/adults have in common is something called Sensory Processing Disorder. While I won't get into the details of what SPD is, I've embedded a link a few words back, that explains everything you need to know about SPD.
For many with Autism and/or SPD, sound can be very painful and overwhelming. Aside from limiting exposure, which isn't always possible, noise-canceling headphones are the weapon of choice. I'm very grateful that only one of my three kids on the Autism Spectrum struggles with noise sensitivity enough to require the use of noise-canceling headphones.

I've personally used both Bose and Sony's high-end active noise-canceling headphones. I currently own the Bose QC 35II and briefly owned the Sony WH-1000XM2. Both fantastic noise-canceling headphones but also come with a premium price tag. So when I had a chance to review the Jabra Elite 85h active noise-canceling headphones, I was pretty excited.
There are a few things I look for personally, in a pair of Bluetooth headphones or earbuds that I'll be using for myself.
Ambient Noise Pass-Through
Performance
Comfort
Build Quality
Price
Battery Life
Most of the time, you'll find me wearing wireless earbuds, especially for working out. My current preference for the last year or so has been the Jabra Elite Active 65t.
Having said that, when I'm at home and I want to listen to a podcast, music, watch a movie or even make a call, I do prefer the over the ear design. It's all personal preference.
When it comes to my sensory kids, the over the ear design is a must. Noise-canceling has to work and they have to be able to tolerate the headphones for extended periods of time. When it comes to filtering out stimulus for people with SPD, sound quality isn't always the number one thing on the list.
In this review, I'm going to talk about my personal experience with the 85h, as well as the experience of my youngest, Emmett, who's very sensory sensitive to noise. As I mentioned above, sound quality doesn't matter to Emmett but I'll talk about that as well because it matters to the general consumer, myself included.
The Jabra Elite 85h is unique in a few ways. For starters, there's no power button. The headphones turn on and off by rotating the right ear cup as seen below.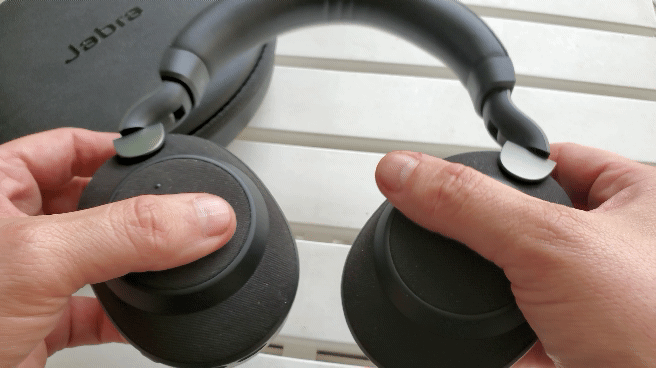 When I first tried this, I was not a fan but the more I used it, the more I liked it. It's super convenient and it works well. I almost prefer this setup over the more traditional power button.
From the perspective of a child with Autism, it might be significantly easier than messing with a small button or switch. Fine motor skills can be also be something that Autistic kids struggle with. With the Elite 85h, they simply remove them from the case, rotate the ear cups and they're instantly connected to their device.
The headphones are very comfortable and stay in place when in use. As with any other over the ear design, your ears may sweat after extended use. That said, these are very, very comfortable and I actually prefer them to the Bose QC 35II. I'm not entirely sure why that it is specifically, but for me, the Jabra's are super comfortable.
The headphones themselves are made of plastic and appear to be very durable. I never felt like they were fragile or I had to be be careful with them. This is important when it comes to kids on the spectrum because they aren't always gentle with their headphones, my son included.
The outside of the ear cups is covered in a fabric material. I'm not sure what led to that design choice but it works fine for me. It actually gives the Jabra Elite 85h a unique look.